NextGen Supply Chain Interview: Dwight Klappich
Autonomous mobile robots, voice and artificial intelligence top a veteran analyst's list of technologies to watch.

By
By Gary Forger, Special Projects Editor, Supply Chain Management Review
·
February 14, 2018
Latest News
Procurement is getting its digitized act together
Third Party Risk: Too Close for Comfort
Pacific Basin conflict and its impact on high tech manufacturing
The New York Shipping Exchange steps up its game to serve "digitized" logistics
What Maersk Really Means About Global Integration
More News
Latest Resource
Third Party Risk: Too Close for Comfort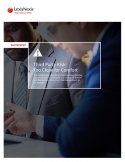 You've got a handle on many of the potential supply chain "disrupters" that can paralyze your business. But the real risk is embedded in areas you may have overlooked.
All Resources
By
By Gary Forger, Special Projects Editor, Supply Chain Management Review
·
February 14, 2018
This month we spoke with Dwight Klappich, vice president of supply chain execution research at Gartner. Klappich has 40 years of supply chain management experience, starting with his time at several groundbreaking supply chain software companies. Today, his research and client advice is focused on how supply chain leaders can use technology to transform logistics operations.
NextGen Supply Chain: With your focus on emerging technologies in warehousing and fulfillment, what are the three most important in the near term?
Klappich: Firstly, technologies and applications for warehouse management are very mature with some commercial offerings dating back nearly 40 years. Because of this, companies are continuously looking for the next source of value.
At the top of my list for emerging technologies is autonomous mobile robots , also known as AMRs. Due to their lower upfront costs and ease of integrating into the warehouse and adaptability, they have considerable potential to revolutionize warehouse operations during the next five to ten years.
The next most important is the evolution of voice technology. More specifically, the convergence of transactional and conversational voice will deliver real power in the warehouse.
And the third is embedded artificial intelligence or AI. We're into baby steps right now but there is real potential for the increasing use of AI moving ahead.
NextGen Supply Chain: Interesting that you put AMRs, which are in effect autonomous vehicles, at the top of the list. Most people think of them on the highway not in the warehouse. Tell us a little more of your thinking here.
Klappich: You're right, use the words autonomous vehicles and most people do think driverless Uber cars or unmanned trucks driving down the highways, not robots moving around a warehouse. But I expect the latter to become widespread reality long before autonomous vehicles broadly appear on the road.
In fact, I think we are right on the cusp of AMRs on the warehouse floor and will see a steep rise in their use in the next two to five years. Over the next decade, growth could be nearly exponential though time to scale will take more like five to ten years. That's much faster than the 25-year timeframe likely for autonomous vehicles on highways. Remember, the warehouse is a very controlled environment, but the highway not so much.
NextGen Supply Chain: What do autonomous vehicles bring to the warehouse?
Klappich: Automation in warehousing is not new. The problem is that much of traditional automation is "bolt-it-to-the-floor" that limits its flexibility. Furthermore, it often has long paybacks. AMRs can bring automation to warehouses of all sizes because the upfront cost is low, the time to value is shortened and customers can scale operations as needed and processes adapted nearly on-demand.
At the most basic level, AMRs can eliminate most wasted travel time in the warehouse. But as AMRs evolve, they will allow companies to rethink and create new processes that will add even more value. Autonomous vehicles allow warehouse managers to do things they just can't do today.
For instance, take re-slotting. It could be done every third-shift with autonomous vehicles, maximizing productivity during the first two shifts. That doesn't happen most places today. It could become standard practice.
There's also the matter of costs. The past 15 years have been all about lowering labor costs. While that's still in the mix, the new and coming focus is labor availability. Autonomous vehicles take care of that. Warehouse managers simply won't have to hire as many people, and will get the work done with higher productivity.
Bottom line—look for a steep rise in autonomous vehicles in the warehouse.
NextGen Supply Chain: You also mentioned voice. But voice has been around for quite a while. What's different now that makes it a standout in the future?
Klappich: You're right. Transactional voice systems have been in the warehouse for at least 20 years. These are very structured voice systems. They have a workflow process. There are specific steps and verifications. There are well established vendors and proven solutions and there are hundreds of thousands of users using transactional voice.
A challenge is that warehouses, like other business areas, are not always structured and pristine. Stuff happens that current iterations of voice don't handle well. To this end being able to engage with a system through conversational interactions would be very valuable.
Conversational voice solutions deal better with unstructured interactions and work on a basis of a query and a response. To use Amazon's system, "Alexa, do I have any late orders? Or do I have any emergency orders?" There's a whole lot less structure but lots of value to conversational voice.
Now combine the two into a single system. That's a new, real power in the warehouse. It opens up doors to new ways of communicating in a very human-like manner.
And just to go out even further. Combine the new combined voice system with smart glasses and traditional bar code scanning. The three technologies are a very powerful combination.
NextGen Supply Chain: Your third leading technology is artificial intelligence. Where is that likely to show up in the warehouse?
Klappich: We're now seeing some of the warehouse software suppliers start to incorporate AI. We are clearly in the very early days here. But AI has great potential. A powerful example is waveless order planning.
It's not uncommon to release too much work at one time in the warehouse. In even a moderately automated warehouse, you can wind up with a traffic jam, especially at sortation and put walls.
AI and machine learning could be used to optimize the flow of goods across the system. Over time, AI could allow the system to learn how best to release work more productively. AI learns from past mistakes.
Another area of opportunity for AI is in planning and managing labor. Machine learning could supplement if not replace industrial engineers with stop watches. Instead, run the warehouse for six months and track tens of thousands transactions to see how it really operates. Machine learning algorithms would then calculate realistic labor standards and would be more sensitive to change.
Basically, AI has real potential to help warehouses decide long before the back-to-school or holiday season the best way to manage inventory and orders as well as labor. Suddenly, AI isn't so esoteric but a necessary and solid component of warehouse efficiency.
Gary Forger is the special projects editor for Supply Chain Management Review. He can be reached at .(JavaScript must be enabled to view this email address).
February 20, 2018
Subscribe to Supply Chain Management Review Magazine!
Subscribe today. Don't Miss Out!
Get in-depth coverage from industry experts with proven techniques for cutting supply chain costs and case studies in supply chain best practices.
Start Your Subscription Today!
Latest Whitepaper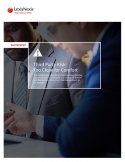 Third Party Risk: Too Close for Comfort
You've got a handle on many of the potential supply chain "disrupters" that can paralyze your business. But the real risk is embedded in areas you may have overlooked.
Download Today!
From the January-February 2018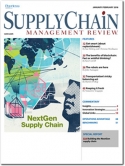 Get Smart (about replenishment)
The Benefits of Blockchain: Fact or Wishful Thinking?
View More From this Issue