NextGen Supply Chain: If you weren't so good, this would be a problem
Innovation is a funny thing. Just when people write it off because they've been waiting too long, it smacks them up the side of the head.

By
Gary Forger
·
September 1, 2017
Latest News
Procurement is getting its digitized act together
Third Party Risk: Too Close for Comfort
Knight-Swift to add 400 trucks, drivers with Abilene tuck-in acquisition
Are CPOs Painted into a Corner?
Panjiva says trade fundamentals are strong, despite concerns over tariffs
More News
Latest Resource
Third Party Risk: Too Close for Comfort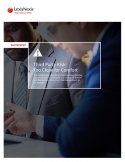 You've got a handle on many of the potential supply chain "disrupters" that can paralyze your business. But the real risk is embedded in areas you may have overlooked.
All Resources
By
Gary Forger
·
September 1, 2017
Let's talk about supply chain innovation. Earlier this year, two supply chain veterans visited the same Wal-Mart distribution center outside Atlanta. They visited on different days and came away with quite different impressions.

One saw teams of people seemingly everywhere. His conclusion was that automation wasn't going to go very far there.

The other saw the same people. But then looked at the automated equipment in place. And heard about all the software running in the background to direct order fulfillment. He was also told about how Jet.com was using other innovative technologies to convert the facility (a new one no less) to an e-commerce leader.

Needless to say, he came away thinking that automation was already firmly entrenched and becoming even more of a factor, regardless of the number of people.

That's the state of innovation in the supply chain today. It's happening but is not universally seen for what it is. This isn't the first time this has happened.

Today, no one would consider electricity to be an innovation. But 100 plus years ago, electricity was not only an innovation, but a disruptive technology in manufacturing.
Some manufacturers adopted it but didn't take full advantage of how electricity enabled changing processes. They floundered. Others went all the way and became noticeably more efficient. They thrived. And then there were some who debated for far too long if electricity had a future. They failed.

Quite simply, electricity changed the supply chain many decades before the words "supply chain" debuted in "The Financial Times" in 1985.


A few years later, Clay Christensen published his revolutionary book "The Innovator's Dilemma." In it, he did a case study on managing disruptive technological change. This is what he had to say about the electric car in 1997:
"No automotive company is currently threatened by electric cars, and none contemplates a wholesale leap into that arena…Indeed, aside from governmental mandates, there is no reason why we should expect the established car makers to pursue electric vehicles. But the electric car is a disruptive technology and potential future threat."

And he was right. But, oh, how things have changed in 20 years.

Just this summer, Chris Mims of the "Wall Street Journal" led an article with: "It's the dawn of the age of the electric vehicle. For real, this time. Probably."
The next day, "The Journal" reported that "Tesla Inc. took a step toward financing its transformation from a niche builder of pricey luxury cars to a mass-market rival of Fords and Chevrolets, setting plans to raise $1.5 billion in its first-ever sale of traditional bonds."
And just a couple of weeks prior to the Tesla announcement, Volvo made one of its own. By 2019 (that's the year after next in case you blinked), all Volvos will have electric motors. By the way, General Motors started selling a $5,000 electric car in China this summer. It clearly isn't 1997 anymore.

Innovation is a funny thing. Just when people write it off because they've been waiting too long, it smacks them up the side of the head.

Professor Christensen said it more elegantly. "The innovator's task is to ensure that this innovation – the disruptive technology that doesn't make sense – is taken seriously within the company without putting at risk the needs of present customers who provide profit and growth."
And that is exactly what supply chain innovation is all about.

It doesn't matter whether a company produces cell phones or processed foods. The supply chain is an increasingly important aspect of a company's financial success. The efficacy and efficiency of the supply chain matter. A lot. And increasingly more and more.

You could say the supply chain is every company's largest soft asset. That puts huge pressure on adopting innovation in the supply chain.

It's been said that the rate of change has never been greater than it is today. Some agree. Some don't. What matters more is your ability to cope with change of any pace. Today, that begs for innovations in the supply chain. Just ask the former e-commerce leaders at Wal-Mart.

Fortunately, these innovations come in many shapes, forms and degrees of development.

Artificial intelligence is already embedded in the supply chain. The scary part is the advancing rate of acceleration that AI can solve problems on its own without any human intervention. We are way past the stage of AI doing routine work under the direction of humans.

Then there's the matter of e-commerce. Talk about a disruptor.
Across America, CFOs are telling DC managers that their e-commerce order fulfillment costs are high and outside. The DC managers patiently (at first) explain the difference between picking and shipping eaches and pallets. The CFO points out that company profit is based on a cost structure that is being abused on the warehouse floor. Time for a little innovation right out of Professor Christensen's book.

Automation was mentioned up top. Robots are a big part of that. Amazon didn't spend $750 million for Kiva because Jeff Bezos likes orange bots. Over at the Rochester Drug facility featured in the September issue of SCMR, a robot from IAM Robotics, a Pittsburgh-based startup, is picking items from static shelves. The cooperative plans to add more robots in the near future. Rochester Drug is early to the game, but not alone. Managers at firms innovating with new technologies are learning from that developmental process what they need to change to make robots successful at picking.

We no longer have the luxury of confronting innovation only after today's shipments are completed. Goods might move through the supply chain sequentially, but all those movements, inside and outside the facility, are occurring simultaneously. And so it is with innovation.

That means your challenge is to identify the key ones for your company and its operations. Then you have to harness the energy of these innovations for the bottom line. It is a daunting challenge. No doubt. But if you weren't so damn good, this would be a problem.
Gary Forger is the contributing editor of NextGen Supply Chain. He can be reached at .(JavaScript must be enabled to view this email address)
September 1, 2017
Subscribe to Supply Chain Management Review Magazine!
Subscribe today. Don't Miss Out!
Get in-depth coverage from industry experts with proven techniques for cutting supply chain costs and case studies in supply chain best practices.
Start Your Subscription Today!
Latest Whitepaper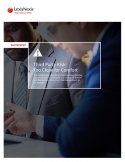 Third Party Risk: Too Close for Comfort
You've got a handle on many of the potential supply chain "disrupters" that can paralyze your business. But the real risk is embedded in areas you may have overlooked.
Download Today!
From the March-April 2018
Power to the buyer
Contracting for Success with Chinese State-Owned Enterprises
View More From this Issue
Latest Webcast
Artificial Intelligence: The Path to Breakthrough Supply Chain Planning
In this session A.T. Kearney partner Michael Hu explains how Artificial Intelligence (A.I.) and Robotic Process Automation (RPA) are emerging as new tools that can lead to breakthroughs in supply chain planning.
Register Today!