NextGen Supply Chain: Expanding the Market for Remote Asset Tracking
After a slow start, the market for remote asset tracking is poised to take off

By
MMH Staff
·
October 23, 2017
{scmr_abstract}
Steve Hoffenberg
·
October 23, 2017
Most participants in supply chain and logistics have the need to track the whereabouts of assets, both within confined areas, such as inside a warehouse, and for remote assets that may be located across vast regions. Short range wireless communications solutions, such as RFID and Bluetooth LE, are well-suited to tracking assets in specific indoor spaces. The short-range tags and networking infrastructure are low cost to implement, and they have been widely adopted (although the software and services to track and manage these assets vary widely in price).
The market for tracking remote assets, however, has been limited thus far. VDC Research defines "remote" assets as those which may be located more than a kilometer from the infrastructure or network that tracks them. In some cases, these assets may be tens or even hundreds of kilometers from the infrastructure. In addition to location, remote tracking devices often include sensors to provide additional data, such temperature, vibration, humidity and other characteristics.
A number of factors have constrained the market for remote asset tracking:
• Historically, communications of data for remote asset tracking have been largely through 2G/3G/4G cellular network services (for many common remote distances) or satellite communications services (for the longest distances). The relatively high price of such services, not counting the cost of the asset management platform itself, has limited the applicability of the solutions to high value assets or collective loads of lower value assets that add up to high value. No one spends upwards of $10 a month to track an individual asset worth $100.
• Tracking devices that determine their location by receiving signals from GPS or the Russian GLONASS satellite systems have fairly high-power consumption, severely limiting battery life for assets that don't have their own power sources. In addition, those technologies generally don't work indoors without adding repeaters or other specialty hardware, restricting their use to buildings under control of the user or service provider. Note that the use of GPS or GLONASS to determine location is independent of what type of communications network the tracker might use to transmit location data to an asset tracking system. Receiving GPS/GLONASS signals has zero service cost, but transmitting data via satellite has high cost.
• Methods that calculate the location of remote assets without using GPS/GLONASS, such as cell tower triangulation/trilateration, are generally much less accurate than either the satellite-based or the short-range wireless methods. GPS is accurate to within a few meters, while cell tower trilateration can only place a tracker within an area of about three-quarters of a square mile.
• Many remote assets are located outdoors and/or in widely varying environmental conditions, requiring ruggedized tracking hardware, which is again more expensive to produce.
Despite these factors, the market for remote asset tracking is poised to expand considerably. This will be a direct result of recent new communications technologies, particularly Low-Power Wide-Area Networks (LPWANs), such as Sigfox, LoRa, and Ingenu which use unlicensed wireless spectrum, and the licensed spectrum cellular services NB-IoT and LTE Cat M1. These services will dramatically lower the communications services costs for remote tracking, not to mention the costs of the wireless radios used in the remote trackers. Already some unlicensed spectrum LPWAN services are available below $1 per month, and some licensed spectrum LPWANs are below $2 per month. Many factors impact the cost of the services, such as how often and how much data is transmitted, as well as which service provider covers a given region. And end-to-end tracking solutions providers will bundle the communication services with value-added IoT cloud platforms and asset management services, so prices will vary widely.
LPWANs won't necessarily solve the GPS power consumption problem, but such networks can already provide approximate location information without GPS in the trackers. Today, LoRa can produce location data by TDoA (Time Difference of Arrival) and RSSI (Received Signal Strength Indicator) calculations, which can yield accuracy within about 100 meters. And semiconductor maker Semtech, the company which holds the intellectual property rights to LoRa technology, recently introduced new transceivers supporting a network-centric methodology that will enable LoRa location measurements within about 50 meters, and potentially down to less than 10 meters, by using ToF (Time-of-Flight) trilateration calculations.
LPWANs won't make remote tracking suitable for every IoT asset, but they will make remote tracking economically feasible for a much wider variety of assets than previous solutions.
Steve Hoffenberg is director of IoT & Embedded Technology for VDC Research. He can be reached by email at .(JavaScript must be enabled to view this email address). For more on this topic, see VDC Research's report "LPWANs & 5G Technologies for IoT Wireless Communications," and watch for the forthcoming "IoT Remote Asset Tracking Research Program."
October 23, 2017
Subscribe to Supply Chain Management Review Magazine!
Subscribe today. Don't Miss Out!
Get in-depth coverage from industry experts with proven techniques for cutting supply chain costs and case studies in supply chain best practices.
Start Your Subscription Today!
Latest Whitepaper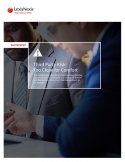 Third Party Risk: Too Close for Comfort
You've got a handle on many of the potential supply chain "disrupters" that can paralyze your business. But the real risk is embedded in areas you may have overlooked.
Download Today!
From the September-October 2017
View More From this Issue