NextGen Supply Chain: Blockchain Moves Forward in the Supply Chain
With a recent announcement, Carrefour is the second global retailer to embrace blockchain for supply chain management.

By
Nicolas Dermond
·
March 4, 2018
Latest News
Procurement is getting its digitized act together
Third Party Risk: Too Close for Comfort
Knight-Swift to add 400 trucks, drivers with Abilene tuck-in acquisition
Are CPOs Painted into a Corner?
Panjiva says trade fundamentals are strong, despite concerns over tariffs
More News
Latest Resource
Third Party Risk: Too Close for Comfort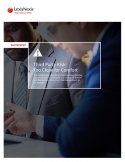 You've got a handle on many of the potential supply chain "disrupters" that can paralyze your business. But the real risk is embedded in areas you may have overlooked.
All Resources
By
Nicolas Dermond
·
March 4, 2018
Carrefour, the hypermarket French retailer, announced it will be investing the majority of its $2 Billion dollar annual investments into blockchain solutions and an online delivery platform. The initiative is being headed by CEO Alexandre Bompard and is intended to adapt to consumer preferences through transparency, accurate supply chain management and bolstering e-commerce.
Carrefour plans to use a blockchain ledger starting sometime in early 2018 to improve the traceability of products, especially in food. Bompard stressed food quality as a major driver of success in the hypermarket space. This change is driven by a shift in consumer preferences towards added value on the transparency and sustainability of the food products being sold.
Bompard's initiative also addresses the damage food borne illnesses could cause his brand. Poor recall execution and speed in the event of an outbreak would be costly due to their liability to the customer. These concerns and goals to ensure supply chain transparency create the opportunity for software solutions to thrive, namely blockchain. Having a ledger coexist with RFID tagging through the supply chain would provide an all-in-one location for shipping documents to be stored and help keep track of supplier quality to ensure food safety.

The final focal point of Carrefour's digitalization is the movement towards the online grocery market. With improved logistics, food quality, traceability and a distributed ledger, Carrefour is expected to launch a polished online platform and are targeting 20% market share by 2020. The site, Carrefour.fr, will offer food and other generalist shopping through "click and collect" (store-pickup) and home delivery. The transition to the digitization of processes leaves some room to cut costs at headquarters. Carrefour plans to downsize in all of its office locations, even closing the corporate HQ in Paris.

The advantages of the blockchain are valuable to say the least. Walmart has also made strides in incorporating blockchain technology in its business. Walmart partnered with IBM to create a unique ledger among its network of suppliers as well. The retail giant plans to address the food quality and the cases of fictitious pickups to strengthen its logistics. IBM and Walmart ran tests on the pilot program on tracking mango shipments which cut tracking time from several days to two seconds. With improved traceability they can ensure the authenticity of food and follow it from "hook to fork."

While Walmart and Carrefour are taking their positions as thought leaders in the hypermarket space, there are some complications to be addressed in the transition to the distributed ledger. The main counterpoint to using blockchain technology in business is the network effect and high participation that brings a ledger monetary value. However, unlike a public ledger, the private supply chain ledger does not need require full participation to make it relevant. As these companies try to grow and globalize along with the need to improve speed and preparation through transparency, the most important task will be getting their vertical specific partner networks to engage. Both giants carry enough resources and influence to aid the key steps in the supply chain during the transition without having to focus on every stop.

Nicolas Dermond is Market Research Intern at VDC Research. Click here for more on blockchain from VDC Research.
March 4, 2018
Subscribe to Supply Chain Management Review Magazine!
Subscribe today. Don't Miss Out!
Get in-depth coverage from industry experts with proven techniques for cutting supply chain costs and case studies in supply chain best practices.
Start Your Subscription Today!
Latest Whitepaper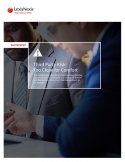 Third Party Risk: Too Close for Comfort
You've got a handle on many of the potential supply chain "disrupters" that can paralyze your business. But the real risk is embedded in areas you may have overlooked.
Download Today!
From the March-April 2018
Power to the buyer
Contracting for Success with Chinese State-Owned Enterprises
View More From this Issue
Latest Webcast
Artificial Intelligence: The Path to Breakthrough Supply Chain Planning
In this session A.T. Kearney partner Michael Hu explains how Artificial Intelligence (A.I.) and Robotic Process Automation (RPA) are emerging as new tools that can lead to breakthroughs in supply chain planning.
Register Today!