NextGen Supply Chain: 3-D printing is on the move
3-D printing has been in start-up mode for 25 years, and is now more widely recognized than ever for its potential. Expect some eye-popping leaps by the technology in the near future.

By
Gary Forger
·
October 16, 2017
Latest News
Procurement is getting its digitized act together
Third Party Risk: Too Close for Comfort
Pacific Basin conflict and its impact on high tech manufacturing
The New York Shipping Exchange steps up its game to serve "digitized" logistics
What Maersk Really Means About Global Integration
More News
Latest Resource
Third Party Risk: Too Close for Comfort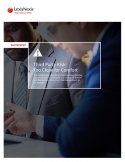 You've got a handle on many of the potential supply chain "disrupters" that can paralyze your business. But the real risk is embedded in areas you may have overlooked.
All Resources
By
Gary Forger
·
October 16, 2017
What could McLaren Racing, adidas, UPSand medical device manufacturer Align Technology possibly have in common? Additive manufacturing, or 3-D printing, of course.
As different as they are, all four companies are either actively exploring the digital supply chain technology or already using it to produce finished products. All four already know that 3-D printing is a potential game changer for each of their businesses.
That said, all four are still in the process of determining exactly what 3-D printing can do for them. You should be doing the same with a long-term timeline in mind.
In fact, 3-D printing has been used by the automotive and aerospace industries for 25 years now. According to a recent survey by industry observer IDC Manufacturing, 51% of all 3-D printing users rely on it for prototyping parts. Meanwhile 47% use or plan to use the technology to produce parts. Consultant PWC says 71% of manufacturers use 3-D printing today.
Other industry experts are expecting a nice pop in the 3-D printing industry in the next few years. Examples:
According to additive manufacturing consultant Wohlers Associates, 3-D printer revenue will hit $9 billion this year. That's up 50% from 2016 levels. Wohlers expects the number to hit $21 billion by 2020.
That's when Gartner expects shipment of printers for industry to hit a new high of 6.7 million annually. Last year, just 450,000 printers were sold.
Meanwhile, consultant McKinsey and Company says the overall economic impact of 3-D printing "could be much higher, reaching $100 billion to 250 billion by 2025 if adoption across industries continues at today's rate."
Clearly 3-D printing is on the move. But don't get too carried away and expect it to replace established manufacturing techniques. Don't look for all manufacturing to shift to retail stores, to parcel delivery depots or to your home or mine. Instead, 3-D will supplement current manufacturing at various supply chain nodes in some key segments.
General Electric additive manufacturing leads to cheaper and faster replacement parts.
McKinsey expects the hot bed for 3-D printing to include aerospace, automotive, medical products and consumer-goods. Scott Schiller of HP (see NextGen: The Interview) also expects spare parts for heavy industry to figure increasingly prominently in the near term.
Some say 3-D printing is further ahead in its development curve in Europe than the U.S. GE, for one, has plans to put the headquarters for its additive manufacturing division in Europe. And it expects the division's revenue to jump form $300 million annually to $1 billion by 2020.
Two companies that compete with GE, Siemens and United Technologies, have not, until recently, invested as heavily as GE in 3-D printing. Both are in catch-up mode, says Wohlers Associates. That said, both industrial giants are aggressively pursuing the long-term potential of 3-D printing through acquisitions and internal development.
There is no denying the potential of 3-D printing on several fronts. Consider this. GE is said to be replacing more than 850 propeller-plane engine parts with just twelve 3-D printed parts. Yes, you read that correctly – 850+ to just 12.
In other words, additive manufacturing has the ability to completely redesign parts, often incorporating many into one. This is due, at least in part, to additive manufacturing's ability to create part geometries that cannot be manufactured with any other technology.
Think about something closer to home - braces for your son's teeth. Align Technology 3-D prints nearly transparent braces precisely to the fit required for Billy's teeth. It's no longer a close-enough fit possible with thermoforming but a precise fit with 3-D printing. That's a game changer that has potential far beyond medical devices.
But it doesn't stop there. As reported in the May/June 2015 issue of Supply Chain Management Review, Align abolished its traditional supply chain for these orthodontics using 3-D printing. It also removed more than 400 production steps.
But Align didn't do that how you might expect. Orthodontists don't print braces in their offices.
Instead, Align centralized production, resulting in longer lead times and higher transportation costs. While degrading the supply chain in those regards, 3-D printing reduced overall costs, reports Supply Chain Management Review. In other words, no one approach suits all when it comes to additive manufacturing. And that's another of its strengths.
While Align uses plastics, metals can also be 3-D printed and are extensively used in aerospace and automotive parts. A broad range of materials, both plastics and metals, is under development to extend the capabilities of the technology and enhance the price/performance equation. Other areas of development include standards, especially for data interchange, and software integration. In other words, there are lots of components to making 3-D printing a broadly used technology, but that process is well underway.

3D Printed parts used by the US Army to replace gun components on the field.
---
Otherwise, McLaren wouldn't be working to print automotive parts for its race teams in the pits at the track. Similarly, adidas wouldn't be prototyping - or actually producing - a running shoe that lasts with 3-D. And then there's UPS. There's a company with the most to lose or gain depending on how it plays the use of 3-D printing of a wide range of products in the supply chain.
Clearly, there are many details to still be worked out in the development of 3-D printing. But this is one of the penultimate digitized supply chain technologies of the future. As McKinsey says, the benefits are to "build deeper relationships with customers, launch new business models, make processes more efficient, and make better decisions."
Like it or not, CEOs are on the cusp of being evaluated, at least in part, on their ability to first introduce digital technologies, including 3-D printing, into their supply chains to gain those advantages. Then, much of CEOs' success will be measured by their ability to integrate digital technologies across their businesses. This is not a matter of if but when. And sooner will be so much better than later.
---
Gary Forger is contributing editor of NextGen Supply Chain. He can be reached .(JavaScript must be enabled to view this email address)
October 18, 2017
Subscribe to Supply Chain Management Review Magazine!
Subscribe today. Don't Miss Out!
Get in-depth coverage from industry experts with proven techniques for cutting supply chain costs and case studies in supply chain best practices.
Start Your Subscription Today!
Latest Whitepaper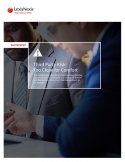 Third Party Risk: Too Close for Comfort
You've got a handle on many of the potential supply chain "disrupters" that can paralyze your business. But the real risk is embedded in areas you may have overlooked.
Download Today!
From the January-February 2018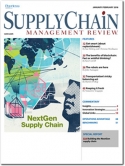 Get Smart (about replenishment)
The Benefits of Blockchain: Fact or Wishful Thinking?
View More From this Issue