Natural Resource Scarcity in the Supply Chain
This is the third installment of a four-part weekly series, "Are You Ready for the Megatrends?"

By
By John E. Bell, Ph.D., The University of Tennessee
·
March 12, 2012
Latest News
Third Party Risk: Too Close for Comfort
The State of the DC Voice Market
Vanderlande invests in collaborative robot specialist Smart Robotics
SSI Schaefer expands North American headquarters
Truck tonnage bounces back in October, reports ATA
More News
Latest Resource
Third Party Risk: Too Close for Comfort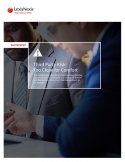 You've got a handle on many of the potential supply chain "disrupters" that can paralyze your business. But the real risk is embedded in areas you may have overlooked.
All Resources
By
By John E. Bell, Ph.D., The University of Tennessee
·
March 12, 2012
Editor's Note: This is the third installment of a four-part weekly series, "Are You Ready for the Megatrends?"
Building a global supply chain in a world of seven billion people is a complex and uncertain endeavor, especially since an increasing percentage of the world's population is demanding industrial products. However, the planet has a finite supply of natural resources that may not support the upward global trend toward 10 billion people this century.

The ability to maintain a balance between supply and demand in supply chains is dependent on natural resources, such as metals, petroleum, crops, and fresh water. The location, quantity, and quality of these resources significantly impact a supply chain's capabilities and logistics costs. Since the beginning of the industrial revolution, resource scarcity has typically been overcome by the ability of technology to find substitute products or discover new sources of natural resources. However, there are indications that such substitution may not overcome the growing imbalance between global demand and the limited amount of natural resources on the planet. So how will the managers of tomorrow build and operate a supply chain that is marked by unprecedented natural resource scarcity? Understanding "where," "why," and "when" natural resource scarcity will occur and "how" to manage it is critical for supply chain management in a changing world.
"Where" can natural resource scarcity occur? Natural resources appear in almost every product; they are consumed in industrial and service processes across the globe. Natural resources typically are classified as either non-renewable or renewable. Non-renewable resources include all of the minerals and metals that are mined, as well organic resources such as petroleum that cannot be re-created in short periods of geologic time. In contrast, renewable resources, such as agricultural crops, timber, and fisheries, can generally be harvested and re-generated in relatively short time periods.
Resource scarcity is either a local or global phenomenon that impacts the logistics in a supply chain. For example, when a resource such as coal is locally scarce, supplies may have to be transported long distances to meet local demands. Other resources, like platinum, are scarce on a global level. Meeting the demand for these resources is increasingly difficult. In such instances, prices for the resource may skyrocket, and supply chain managers may be forced to find alternative materials or methods to provide utility to their customers.
"Why" is resource scarcity appearing in our supply chains? Seven forces shape the current scarcity level of a natural resource. Forces such as substitution, discovery, recovery, and reclamation decrease the resource's scarcity level and help provide continued availability. However, other forces, such as consumption, degradation, and competition, increase a resource's scarcity levels. In recent years, these latter forces have started to create local or even global scarcity for many key resources. In the past, technology has been closely tied to the forces of substitution and discovery. They traditionally have been harnessed to create new materials or processes that substitute for a scarce resource; they also are used to find new deposits of resources, such as oil and natural gas. However, these two forces alone may not keep up with growing forces of consumption and competition triggered by increased levels of population and economic growth around the world.
"When" will natural resource scarcity occur in the supply chain? Scarcity is already a major factor for companies and industries all over the globe. Natural resource scarcity has been a major theme in a number of recent Wall Street Journal articles. The history and potential economic impact of recent scarcity occurrences was discussed in a 2008 article that described shortages in everything from precious metals to fresh water Additional articles have described the competition for coal reserves in Australia that will help meet future demand in China and India. Similarly, increased demand for rare earth metals to make industrial magnets, LED lighting, wind turbines, and other high-tech products has led to over 300 new exploration projects around the globe to find new resource deposits. Finally, major corporations such as GE are impacted by the rising prices of scarce resources. They are not only trying to avoid the use of scare resources in product designs, but they also are actively working with customers to return and recycle rare metals, such as rhenium, used to manufacture aircraft engines.
There are indications from around the world that resource scarcity is a major threat in supply chains. As a result, companies will have to change their strategies and processes. In a December 2011 report by PricewaterhouseCoopers, a survey of 69 leading manufacturing companies found that 58 percent already were being impacted by metals scarcity and 70 percent expected the impact of scarcity on their company to increase in the next five years. So "when" will scarcity impact your supply chain? It probably already is making a significant impact.
"How" can you manage scarcity in your supply chain? One extreme example of operating under resource scarcity already exists in Cuba where businesses are faced daily with a lack of food, medicine, electricity, and raw material. Although February 2012 marked the 50th anniversary of the U.S. embargo, the economy in Cuba continues to operate through the ingenuity of its people. Cuba has created supply chains that re-use and recycle almost everything, despite the lack of government-mandated recycling programs. Such adaptation may be a hint of the type of closed loop supply chains needed in the near future.
In addition to the recovery of scarce resources, managers also will have to apply other approaches to mitigate the occurrence of natural resource scarcity in their supply chains. Building strategies that apply logistics, avoidance, allocation, and reclamation techniques are the focus of recent research at the University of Tennessee. Preliminary findings from this research have lead to a set of practical recommendations to help supply chain managers prepare for and counter natural resources scarcity. They include:
1) Identify. Scan the environment for resource scarcity risks that will move a specific resource from a state of availability to one of scarcity.
2) Recognize. Identify scarcity impacts on resources; including where and in what quantities scarce resources appear in product supply chains.
3) Mitigate. Create strategies that avoid the use of scarce resources in product designs while increasing the focus on recovery and reclamation.
4) Collaborate. Work with suppliers and customers to locate resource scarcity threats that may be multiple layers forward or backwards in a supply chain.
5) Integrate. Design and build closed loop supply chains with partners that are based on increased levels of recovery and the wise use and allocation of scarce resources.
6) Control. Create internal policy to mandate when and how to use scarce resources in product and service supply chains.
7) Promote. Educate stakeholders and advocate with industry and government for policies that control and mitigate the impact of natural resource scarcity.
In summary, supply chain managers are entering a new era where assumptions of unlimited resource availability are unwise at best and could be disastrous for the sustainability of supply chain flows. Understanding the forces that are increasing resource scarcity levels in your supply chains is critical for preventing disruptions. Implementing strategies and techniques to counteract the occurrence of natural resource scarcity will be necessary to remain competitive in an increasingly complex world.
March 12, 2012
About the Author
Patrick Burnson, Executive Editor Patrick Burnson is executive editor for
Logistics Management
and
Supply Chain Management Review
magazines and web sites. Patrick is a widely-published writer and editor who has spent most of his career covering international trade, global logistics, and supply chain management. He lives and works in San Francisco, providing readers with a Pacific Rim perspective on industry trends and forecasts. You can reach him directly at
[email protected]
Subscribe to Supply Chain Management Review Magazine!
Subscribe today. Don't Miss Out!
Get in-depth coverage from industry experts with proven techniques for cutting supply chain costs and case studies in supply chain best practices.
Start Your Subscription Today!
Latest Whitepaper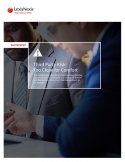 Third Party Risk: Too Close for Comfort
You've got a handle on many of the potential supply chain "disrupters" that can paralyze your business. But the real risk is embedded in areas you may have overlooked.
Download Today!
From the September-October 2017
View More From this Issue