Michigan Ross Takes a New Route with MSCM Program
Revamp includes shorter program and a more integrative action-based learning curriculum

By
SCMR Staff
·
January 9, 2017
Latest News
Procurement is getting its digitized act together
Third Party Risk: Too Close for Comfort
Pacific Basin conflict and its impact on high tech manufacturing
The New York Shipping Exchange steps up its game to serve "digitized" logistics
What Maersk Really Means About Global Integration
More News
Latest Resource
Third Party Risk: Too Close for Comfort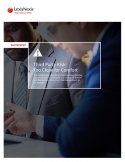 You've got a handle on many of the potential supply chain "disrupters" that can paralyze your business. But the real risk is embedded in areas you may have overlooked.
All Resources
By
SCMR Staff
·
January 9, 2017
The University of Michigan's Ross School of Business announced today the revamp of its Master in Supply Chain Management program. As MSCM approaches its tenth year, the program's team saw an opportunity to expand its growth while continuing to produce high-quality talent and remaining competitive. The program will begin when the new cohort arrives in July 2017.

The program is designed to give students an edge in the job market and provide them deeper relationships with industry partners. Marrying leadership development with an industry-relevant curriculum, students and recruiters are getting the best from Michigan Ross.

"I'm excited about the direction we're headed with the MSCM program. The redesign illustrates our commitment to excellence. At Michigan Ross, we create, foster and bring to life, bold ideas and continuously evolve to meet the needs of today's business school student," said Scott DeRue, Edward J. Frey Dean at the Ross School of Business at the University of Michigan. "With these new offerings, we are preparing the next generation of leaders for the dynamic and complex supply chain of tomorrow."

It will now be a 10-month program, beginning in July and concluding in April. And while the duration is shorter, students will spend more time on campus, and in turn get the full Michigan Ross experience. Currently the program is 12 months and begins in January. The new start date will help align students' schedules with corporate recruiting schedules.

Other changes to MSCM include:

More big data and analytics - The new curriculum will include more key trends in the supply chain management industry. As big data and analytics have become increasingly popular areas of study among business schools, MSCM will focus on these topics as well as leadership development and general business education.
New course - Students will now have a more integrative program through a new action-based learning course, Supply Chain Consulting Studio. Previously, students worked summer internships with various companies. Now they will take a 6-credit course during the winter semester, where they will have projects sourced through industry partners. Students will experience a real-world corporate environment, where they will serve as consultants on a supply chain challenge.
Deeper industry engagement - Through the action-based learning curriculum, courses, and recruiters, the new format will provide an opportunity for students to have deeper and wider engagement with industry partners.

The MSCM program ranked No. 5 among supply chain management programs in U.S. News & World Report and No. 6 in IndustryWeek. It is one of the few schools in the U.S. that is STEM-certified, making international students eligible for more than 36.5 months of work authorization in the U.S. Another unique component of MSCM is the Corporate Advisory Council (CAC), a group of industry leaders who serve as advisors, mentors, and partners to Ross MSCM faculty and students. The CAC offers insight on the latest supply chain management trends and employment opportunities.

"The restructured Ross MSCM program, fueled by its progressive curriculum, high-impact action-based learning module, and close collaboration with the corporate sector, is destined to accelerate its production of elite supply chain innovators—precisely what the business community needs to address society's emerging challenges," said Bill Hall, Head of Sustainability at Fiat Chrysler Automobiles (FCA) and a CAC member.

For more information about MSCM, visit http://michiganross.umich.edu/programs/master-of-supply-chain-management.
January 9, 2017
Subscribe to Supply Chain Management Review Magazine!
Subscribe today. Don't Miss Out!
Get in-depth coverage from industry experts with proven techniques for cutting supply chain costs and case studies in supply chain best practices.
Start Your Subscription Today!
Latest Whitepaper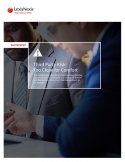 Third Party Risk: Too Close for Comfort
You've got a handle on many of the potential supply chain "disrupters" that can paralyze your business. But the real risk is embedded in areas you may have overlooked.
Download Today!
From the January-February 2018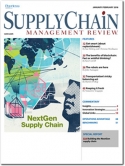 Get Smart (about replenishment)
The Benefits of Blockchain: Fact or Wishful Thinking?
View More From this Issue