Managing for Catastrophes: Part II
There are five elements of a resilient supply chain

By
Dr. Alan Kosansky and Michael Taus, Profit Point
·
March 27, 2014
Latest News
Third Party Risk: Too Close for Comfort
The State of the DC Voice Market
Port Tracker report continues strong run of U.S. retail container import growth
U.S. carload and intermodal volumes are both solid in November, reports AAR
U.S.-bound shipments are strong again in November, reports Panjiva
More News
Latest Resource
Third Party Risk: Too Close for Comfort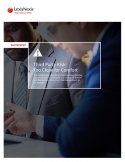 You've got a handle on many of the potential supply chain "disrupters" that can paralyze your business. But the real risk is embedded in areas you may have overlooked.
All Resources
By
Dr. Alan Kosansky and Michael Taus, Profit Point
·
March 27, 2014
Editor's Note: This is the second installment of a three-part feature authored by Dr. Alan Kosansky and Michael Taus, Profit Point
Five elements of a resilient supply chain
Supply chain managers tend to rely heavily on data to support decision-making processes. Data proves helpful in planning for risk but is insufficient in light of the massive number of scenarios that could disrupt a supply chain. Developing a plan to deal with so many unknowns requires a slightly different set of priorities. There are five key elements that distinguish a resilient supply chain:
1. Prepared: Designing a supply chain that is prepared for a catastrophic disruption involves understanding the risks, maintaining deep visibility into the supply chain resources, and developing operational readiness throughout the organization.
• Understanding Risks: While too many possibilities exist to identify all the risks that could occur, a risk matrix should still be developed for the purpose of guiding risk assessment. Begin by generating region or country-specific risk scenarios from such macro risks as those listed in Table 1. Then build upon this general list by regularly surveying key stakeholders within the organization to develop a more targeted assessment. For example, evaluate how the organization would manage product supply if water rationing significantly curtailed the operating capacity of a main factory. To truly understand the magnitude of the risks, use a supply chain planning tool to visualize models against the risk scenarios and share the findings with relevant stakeholders to improve feedback and preparedness.
• Resource Visibility: A supply chain plan is only as good as the data it can access and interpret. Similarly, a good catastrophe-ready supply chain plan requires deep visibility into all mission-critical supply chain resources. Unlike an ordinary supply chain planning tool which should be thoroughly integrated with ERP, a risk planning tool must be. When a catastrophic event occurs, data must be instantaneously available to begin testing alternative models; time cannot be wasted waiting for a data dump or manual input. Additionally, look for opportunities to integrate with suppliers and other partners to improve coordination. To be prepared means having the right tools in place before they are necessary.
• Operational Readiness: A proficient supply chain planner knows that people and processes are essential to success. This is equally true in catastrophe planning. An organization that understands the risks that could impact their supply chain will be prepared to respond when time is of the essence. Agreed-upon contingency plans should be in place for the scenarios with the highest probability or the highest impact. However, as is often repeated in military circles, a battle plan never survives the first contact with the enemy. Thus, as with all planning initiatives, seek early and active participation from key stakeholders to develop processes that ensure the message will be communicated to all supply chain members, including key suppliers, logistics partners and customers.

2. Tested: Like fire drills in an elementary school, catastrophe plans should be tested under real world conditions on a regular basis. Break the full catastrophe plan down into a comprehensive panel of small, modular tests, which can be run on a frequent basis. Tests should include key suppliers, as well as manufacturing, inventory and transportation assets to provide an opportunity for collecting feedback from all quarters. Regular and continuous testing will develop and condition the organization and its key partners to perform well under the stress a real catastrophe.
3. Rapid: While a typical planning project can be staged and rolled out on a somewhat flexible schedule, a catastrophe plan must be put into action on a moment's notice. Preparedness is the most critical factor in enabling a rapid response. A well-honed catastrophe plan will include key metrics against which to measure response times during testing cycles. Desired response times should be prioritized according to the impact on the supply chain and customers.

4. Interchangeable: Under ordinary circumstances, redundancy in the supply chain can be costly and unnecessary. When responding to a catastrophic breakdown, interchangeable options can mean the difference between maintaining business continuity and a dramatic breakdown in operations.
No supply chain can, or should, be fully redundant. Planning tools enable testing of a multitude of possible future scenarios without having to actually invest in redundant assets. These tools will identify and prioritize corresponding workarounds for the most impactful dependencies within the supply chain. Construct scenarios in which supplier, manufacturing, distribution and transportation resources would be affected and develop a strategy for working around those losses. Any link in the supply chain that, if disrupted, has the potential to cause unacceptable losses should be accounted for with an alternative plan.
5. Agile: In the world of software development, "agile" refers to a set of methodologies that yield an iterative and incremental development process. Building a monolithic waterfall-style plan is costly and time-consuming. Instead, consider building the plan in short iterations (or sprints) of 1-4 weeks of development and immediate implementation. Then, use each iteration to address the highest priority within the larger vision. Rather than taking six to twelve months to develop a comprehensive plan before beginning the process of implementing, an iterative approach will facilitate immediate, incremental progress towards a resilient supply chain. If new priorities arise unexpectedly, as they often do, the organization will be positioned to quickly address this new priority in the next iteration.
Expect to find widely varying degrees of preparedness across the organization and its partners. At the same time, don't let perfection get in the way of progress. Identify important and easy opportunities to gain early traction. Develop longer-term, continuous improvement plans for more complex and challenging requirements. For example, if water is central to the production process, but only available from a single source, consider bi-furcating this component into a separate plan that can be developed over a longer timeline. This sort of flexible approach, coupled with an iterative process, allows the catastrophe plan to gain a foothold and be improved upon over time.

Tomorrow: People and process — then technology
March 27, 2014
About the Author
Patrick Burnson, Executive Editor Patrick Burnson is executive editor for
Logistics Management
and
Supply Chain Management Review
magazines and web sites. Patrick is a widely-published writer and editor who has spent most of his career covering international trade, global logistics, and supply chain management. He lives and works in San Francisco, providing readers with a Pacific Rim perspective on industry trends and forecasts. You can reach him directly at
[email protected]
Subscribe to Supply Chain Management Review Magazine!
Subscribe today. Don't Miss Out!
Get in-depth coverage from industry experts with proven techniques for cutting supply chain costs and case studies in supply chain best practices.
Start Your Subscription Today!
Latest Whitepaper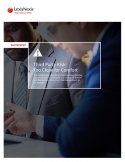 Third Party Risk: Too Close for Comfort
You've got a handle on many of the potential supply chain "disrupters" that can paralyze your business. But the real risk is embedded in areas you may have overlooked.
Download Today!
From the September-October 2017
View More From this Issue