Making the Case for Mobile Workstations
Untether your Receiving Department and Watch Productivity Rise

By
LM Staff
·
July 17, 2017
{scmr_abstract}
Download Now!
Sponsored by:
Technology in the News
Report: Amazon introduces new app for truck drivers
Close the Gap in Your Supply Chain
Make Your Products Smarter in the Supply Chain with the IoT
Supply Chain Visibility is Dead
Dell Edge Gateways for Commercial Telematics
More Technology News
By
LM Staff
· July 17, 2017
Are your operators moving goods excessively before putaway and walking a lot to do their work at fixed stations? Do workers wait around for goods that they need to put away?
If you answered yes, then maybe it's time to make the case for mobile workstations.
By eliminating paperwork and relying on mobile carts that are equipped with an integrated power system, companies can effectively:
boost dock-to-stock cycle time,
reduce labor by as much as $10,000 per worker,
eliminate improperly labeled products, and
minimize inaccurate inventories.
Download this new Making the Case and learn how to make the case for boosting productivity with mobile-powered workstations.
Download Now!
Subscribe to Supply Chain Management Review Magazine!
Subscribe today. Don't Miss Out!
Get in-depth coverage from industry experts with proven techniques for cutting supply chain costs and case studies in supply chain best practices.
Start Your Subscription Today!
Latest Whitepaper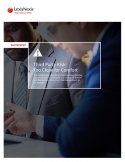 Third Party Risk: Too Close for Comfort
You've got a handle on many of the potential supply chain "disrupters" that can paralyze your business. But the real risk is embedded in areas you may have overlooked.
Download Today!
From the September-October 2017
View More From this Issue