Lessons from Leaders: Gartner's Supply Chain Top 25 Methodology
For the past thirteen years, Gartner has been releasing its list of the Top 25 Supply Chains. Here's how leaders are selected.

By
Stan Aronow, Jim Romano and Kimberly Nilles
·
August 29, 2017
Latest News
Third Party Risk: Too Close for Comfort
The State of the DC Voice Market
Rail Customer Coalition calls on White House to fill open STB positions
U.S. rail carload and intermodal volumes are mixed for week ending January 13
Collaborative robots double production in limited floor space
More News
Latest Resource
Third Party Risk: Too Close for Comfort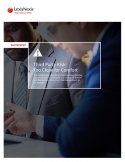 You've got a handle on many of the potential supply chain "disrupters" that can paralyze your business. But the real risk is embedded in areas you may have overlooked.
All Resources
By
Stan Aronow, Jim Romano and Kimberly Nilles
·
August 29, 2017
The way we determine the ranking is something we have been transparent with since the beginning. We have also sought to keep it both consistent as well as responsive year after year, taking direct feedback from the supply chain community of professionals and incorporating suggested changes into the methodology where possible. As a result, the list reflects not only what Gartner analysts think about supply chain leadership, but what the community as a whole respects.

The Supply Chain Top 25 ranking comprises two main components: business performance and opinion. Business performance in the form of public financial and Corporate Social Responsibility (CSR) data provides a view into how companies have performed in the past, while the opinion component offers an eye to future potential and reflects leadership in the supply chain community. These two components are combined into a total composite score.
We derive a master list of companies from a combination of the Fortune Global 500 and the Forbes Global 2000, with a revenue cutoff of $12 billion. We then pare the combined list down to the manufacturing, retail, and distribution sectors, thus eliminating certain industries, such as financial services and insurance, which do not have physical supply chains.
Business performance component
Four financial metrics and the corporate social responsibility metric are used in the ranking:
ROA — Net income/total assets (20% weighting)
Inventory turns — Cost of goods sold/quarterly average inventory (10% weighting)
Revenue growth — Change in revenue from prior year (10% weighting)
CSR — Index of third-party CSR measures (10% weighting)
ROA provides a general proxy for overall operational efficiency and productivity. Inventory offers some indication of cost and revenue growth, while clearly reflecting myriad market and organizational factors, offers clues to innovation. The primary source for all publicly available financial data is S&P's Capital IQ (CapIQ) database.
We use a three-year weighted average for the ROA and revenue growth metrics and a one-year quarterly average for inventory. The yearly weightings are as follows: 50% for 2016, 30% for 2015 and 20% for 2014.
The use of three-year averages is in place to accomplish two goals. The first is to smooth the spikes and valleys in annual metrics, which often aren't truly reflective of supply chain health, that result from events such as acquisitions or divestitures. It also accomplishes a second, equally important goal: to better capture the lag between when a supply chain initiative is put in place (a network redesign or a new demand planning and forecasting system, for example) and when the impact can be expected to show up in financial statement metrics, such as ROA and growth.
Inventory, on the other hand, is a metric that is much closer to supply chain activity; we expect it to reflect initiatives within the same year. The reason we moved to a quarterly average was to gain a better picture of actual inventory holdings throughout the year, rather than the snapshot, end-of-year view provided on the balance sheet in a company's annual report.

In 2016, we designed a scoring system for CSR based on our research and input from third-party experts in CSR, a cross-section of supply chain community members and our broader research organization. Each company has the opportunity to achieve up to 10 points for evidence of its CSR commitment, transparency and performance.
Opinion component
The opinion component of the ranking is designed to provide a forward-looking view that reflects the progress companies are making, and the extent to which they demonstrate leadership through visibility in the supply chain community. It's made up of two components, each of which is equally weighted: a Gartner analyst expert panel and a peer panel.
The goal of the peer panel is to draw on the extensive knowledge of the professionals that, as customers and/or suppliers, interact and have direct experience with the companies being ranked. Any supply chain professional is eligible to be on the panel, and only one panelist per company is accepted. Excluded from the panel are consultants, technology vendors and people who don't work in supply chain roles (such as public relations, marketing or finance).
We accepted 200 applicants for the peer panel this year, with 169 completing the voting process. Participants came from the most senior levels of the supply chain organization across a broad range of industries. There were 38 Gartner panelists across industry and functional specialties, each of whom drew on their primary field research and continuous study of companies in their coverage area.
Organizations must surpass a base threshold of votes from both panels to be included in the ranking. Therefore, a company that had a composite score fall within the Supply Chain Top 25 solely based on the financial metrics would not be included in the ranking.
Polling procedure
Peer panel polling was conducted in April 2017 via a web-based, structured voting process similar to previous years. Panelists are taken through a six-page system to get to their final selection of leaders that come closest to the demand-driven ideal, which is detailed in the instructions on the voting website for the convenience of the voters. We also asked voters to factor the degree to which companies' are running ethical and sustainable supply chains into how they rank their top choices.
Individual votes are tallied across the entire panel, with 25 points earned for a No. 1 ranking, 24 points for a No. 2 ranking and so on. The Gartner analyst panel and the peer panel use the exact same polling procedure.
By definition, each person's expertise is deep in some areas and limited in others. Despite that, panelists aren't expected to conduct external research to place their votes. The polling system is designed to accommodate differences in knowledge, relying on what author James Surowiecki calls the "wisdom of crowds" to provide the mechanism that taps into each person's core kernel of knowledge and aggregates it into a larger whole.

Composite score
All of this information—the four business performance measures and two opinion votes—is normalized onto a 10-point scale and then aggregated, using the aforementioned weighting, into a total composite score. The composite scores are then sorted in descending order to arrive at the final Supply Chain Top 25 ranking.
About the authors: Stan Aronow is a research vice president, Jim Romano is a program director and Kimberly Nilles is a program manager at Gartner Inc. They can be reached at .(JavaScript must be enabled to view this email address), .(JavaScript must be enabled to view this email address) ,and .(JavaScript must be enabled to view this email address).

August 31, 2017
Subscribe to Supply Chain Management Review Magazine!
Subscribe today. Don't Miss Out!
Get in-depth coverage from industry experts with proven techniques for cutting supply chain costs and case studies in supply chain best practices.
Start Your Subscription Today!
Latest Whitepaper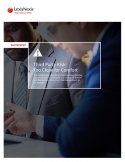 Third Party Risk: Too Close for Comfort
You've got a handle on many of the potential supply chain "disrupters" that can paralyze your business. But the real risk is embedded in areas you may have overlooked.
Download Today!
From the December 2017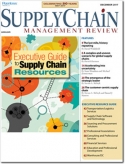 Transportation Trends: The last mile, history repeating
Economic Outlook: A Complex and Uneven Scenario for Global Supply Chains
View More From this Issue