Keeping it nimble at Kraft Heinz
One of America's iconic food brands says it is investing to create an efficient and nimble supply chain that can respond to a changing consumer while meeting its customer's requirements

By
Bob Trebilcock
·
February 28, 2018
{scmr_abstract}
Bob Trebilcock
·
February 28, 2018
Based on "Consumer Shift Bites Food Companies," a recent article in the Wall Street Journal, I could be one of the last shoppers in America who still reaches for brand names when I go to the grocery store. My wife and daughter, who are always on the lookout for bargains, think I'm silly – or crazy – but when I go down the aisle, I instinctively reach for the names that were on my mother's pantry shelf: Campbell soups, General Mills cereals, Nabisco crackers and Heinz ketchup.
But according to the Journal, major food makers "remain under pressure in the U.S. as consumers turn to healthier meals and snacks." Campbell's sales fell 2% in the more recent quarter while Kraft Heinz Co., recently reported a 1.1% drop in the U.S., the Journal reported. All of which means that the supply chains of those venerable brands need to do more than ever, and possibly more than ever with less going forward. What's more, the pressure isn't just coming from consumers, according to Troy Shannan, senior vice president of Kraft Heinz's North American supply chain. It is also coming from demanding retailers who are focusing more than ever on on-time and complete deliveries, including fines for those who are late. "I tell the team that our customers drive our direction," Shannan says. "Customer service has been a big focus for us."
To respond to customer service demands and a fickle consumer, CPG and food supply chains like the one operated by Kraft Heinz have to be efficient and nimble, Shannan says. That's a tall order when your North American supply chain network spans 40 factories, 88 distribution centers and over 100 co-pack and co-manufacturing partners and produces about 11 billion pounds of product annually, across some 7,000 SKUs. Those include dry, refrigerated and frozen products. To that end, Kraft Heinz just wrapped up a $1.5 billion project to revamp its footprint and upgrade its facilities, including some legacy facilities that dated as far back as the early 1900's. A prime example: A new, 380,000 square foot Oscar Mayer Deli Fresh production factory that replaced an inefficient, seven-level factory that Kraft Heinz had operated since 1946. The new, highly-automated facility was named Food Engineering's 2018 plant of the year.
The company is also about 60 percent of the way through a $300 million project to install X ray and 2D barcode systems on its manufacturing lines to ensure quality. The savings generated by these projects are invested back In the business. "In the past couple of years, we've done a lot in our brands, such as removing all the artificial colorings and ingredients out of mac and cheese (http://www.kraftmacandcheese.com/)," Shannan says.
What, then, might generate the biggest changes or challenges in the Kraft Heinz supply chain going forward? Shannan discussed several.
E-commerce: Regardless of the product they produce or the industry in which they play, manufacturers are either confronting e-commerce now, or anticipate it becoming a bigger part of their business in the future. Kraft Heinz is no exception. "The vast majority of our business is still done the old-fashioned way today, through shipping to distributors or to a customer's DC," Shannan says. "While that hasn't changed a whole lot, e-commerce is now growing by leaps and bounds. It's coming at us fast." Kraft Heinz is taking what Shannan describes as a "fast follower approach;" it focuses on pallet shipments while partnering with 3PL's for case or each picks. Similarly, Kraft Heinz outsources it's mixed SKU fulfillment processes to third party mixing centers.
Technology: Shannan describes this as an "extremely exciting time because of the technology coming at us." He also believes that technology will be key to achieving that "nimbleness," he referred to earlier. The key is not to identify the information that can make a difference without drowning in all of the data now generated by a supply chain. Shannan noted two technologies.
First, Kraft Heinz is using transportation tracking and visibility technology from Four Kites to track inbound and outbound shipments. "We begin tracking a truck 24 hours before it comes to our DC, and when a truck leaves our DC, it pings us every 15 minutes so we know whether we're on schedule or off schedule," Shannan says.
Kraft Heinz is also utilizing IBM's Watson technology for its S&OP process. "With Watson, we can analyze more variables than a person can to give us better predictive modeling for the demand for our SKUs," Shannan says.
Priorities: Quality, including the ongoing installation of 2D barcode readers and X rays on the production lines, has been top of mind for the last several years. "We had zero recalls globally in 2017 and that was a fantastic result," Shannan says. "We have to maintain that level and get better." Next, is improving on time delivery (OTD) metrics to keep its customers satisfied. "We're working to get into the details that will help us understand and improve driver performance," Shannan says. "But, we also know that we have to pay attention to fill rates and warehouse performance." Last is to continue to drive overall efficiency, freeing up savings that can go back into the business.
With 24 years in the industry, Shannan says that what excites him the most is promise of technology. "We're just scratching the surface of how technology is going to change the supply chain," he says.
February 28, 2018
About the Author
Bob Trebilcock Bob Trebilcock, editorial director, has covered materials handling, technology, logistics and supply chain topics for nearly 30 years. In addition to Supply Chain Management Review, he is also Executive Editor of Modern Materials Handling. A graduate of Bowling Green State University, Trebilcock lives in Keene, NH. He can be reached at 603-357-0484.
Subscribe to Supply Chain Management Review Magazine!
Subscribe today. Don't Miss Out!
Get in-depth coverage from industry experts with proven techniques for cutting supply chain costs and case studies in supply chain best practices.
Start Your Subscription Today!
Latest Whitepaper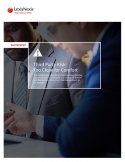 Third Party Risk: Too Close for Comfort
You've got a handle on many of the potential supply chain "disrupters" that can paralyze your business. But the real risk is embedded in areas you may have overlooked.
Download Today!
From the March-April 2018
Power to the buyer
Contracting for Success with Chinese State-Owned Enterprises
View More From this Issue
Latest Webcast
Artificial Intelligence: The Path to Breakthrough Supply Chain Planning
In this session A.T. Kearney partner Michael Hu explains how Artificial Intelligence (A.I.) and Robotic Process Automation (RPA) are emerging as new tools that can lead to breakthroughs in supply chain planning.
Register Today!