It's Not the Tariffs, It's the Trade Wars
Are we trading steel for soybeans? Tariffs create a false sense of well-being among U.S. manufacturers.

By
Rosemary Coates
·
March 5, 2018
Rosemary Coates
·
March 5, 2018
This is so frustrating. Our politicians spend such little time understanding issues in depth and oversimplifying big trade issues. As a result, the consequences of new policies are not thought-through and may have dire effects on American workers and the economy.
Sure, putting up additional trade barriers through tariffs will cause imported aluminum and steel and solar panels to be more expensive. That means that American manufacturers of the same or similar products don't have to compete so aggressively for business. They can charge higher prices with less competition, without doing a thing to improve their own operational efficiency. Because of Trump's announcement on steel and aluminum tariffs, some American producers are rejoicing.

But that's not all….
Increasing aluminum and steel prices will certainly cause increased prices on consumer goods including cars, and on many other industrial goods. For example, tire makers in South Carolina are pushing back. Increases in steel prices will drive down the demand for cars and the tires that go on the cars. Even the stock market was shocked and closed down 500 points after the announcement.
The Aluminum Association wasn't exactly thrilled, either. The Association indicated that not all of the aluminum needed by U.S. industry, can be produced in the U.S. They suggest that tariffs should be directed toward China rather than Canada or the European Union. Many of the American aluminum producers also have manufacturing plants in Canada.
Trump indicated on Saturday he would put a tax on auto imports from Europe if they retaliated on the steel and aluminum tariffs. I have to wonder if Trump knows BMW has its largest plant in South Carolina. Hurting BMW's global business through a trade war will not have a positive effect on BMW's South Carolina workers.
Increasing solar panel prices (the last Trump tariff initiative) will decrease demand for rooftop solar equipment and as a result, put a lot of installers and other support workers out of work. The Solar Energy Industries Association (SEIA) reports that tariffs on imported panels will cost 88,000 U.S. solar jobs of the more than 250,000 employed in the industry
But that's not all…the worst is yet to come.
What is likely to happen is that the Trump Administration will gaslight a trade war between the US and China, Korea, Canada, Mexico and Europe. Because we are taxing imports, they will do the same in retaliation, but on different products. The most likely strike back will be against American farmers for their exports of soybeans and other crops that are imported into China. That's right, we are trading taxes on steel for a devastating gut-punch to American farmers.
What's more, trade wars tend to escalate and morph into all kinds of retaliatory actions. They do nothing to improve relationships with our allies or would-be allies. In fact, history demonstrates that protective tariffs have a negative effect on foreign relations and the global economy.
But that's not all….
Tariffs create a false sense of well-being among U.S. manufacturers. Instead of improving their processes and becoming more efficient in order to compete, they are handed a license to stay fat and happy. This is not the image we want for American manufacturing. Our market economy should drive us to become more cost-efficient, aggressively compete on the global stage, and not get lazy because of protectionist policies.
With no advance announcement or planning, and so little understanding of economics, this was a "shoot from the hip" action. I hope that the people around Trump will explain the devastating economic consequences for Americans of such actions, and perhaps he will rethink these new tariffs in the light of a deeper understanding.
March 5, 2018
Latest Whitepaper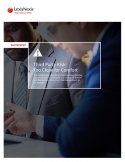 Third Party Risk: Too Close for Comfort
You've got a handle on many of the potential supply chain "disrupters" that can paralyze your business. But the real risk is embedded in areas you may have overlooked.
Download Today!
From the March-April 2018
Power to the buyer
Contracting for Success with Chinese State-Owned Enterprises
View More From this Issue
Latest Webcast
Artificial Intelligence: The Path to Breakthrough Supply Chain Planning
In this session A.T. Kearney partner Michael Hu explains how Artificial Intelligence (A.I.) and Robotic Process Automation (RPA) are emerging as new tools that can lead to breakthroughs in supply chain planning.
Register Today!