How to perfect the art of procurement
To move your procurement organization to the next level, it pays to learn from the Masters.

By
Kevin Doran
·
December 28, 2017
Latest News
Third Party Risk: Too Close for Comfort
The State of the DC Voice Market
AutoStore opens U.S. headquarters
LogisticsExchange begins trading, bringing predictability to the transportation market
Port of Long Beach makes bold move to become greener and more competitive
More News
Latest Resource
Third Party Risk: Too Close for Comfort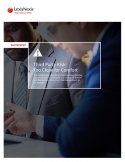 You've got a handle on many of the potential supply chain "disrupters" that can paralyze your business. But the real risk is embedded in areas you may have overlooked.
All Resources
By
Kevin Doran
·
December 28, 2017
When it comes to creating value from the supply base – and blowing the competition out of the water – procurement is a crucial but often overlooked area of importance. In this environment where digital is bringing new strategies and approaches, companies need to make the most of innovation while continuing to deliver cost-effective, value-adding procurement.
New research from Accenture Strategy shows that a small group of procurement Masters – defined as the top 10 percent of procurement organizations in terms of performance – are delivering a 15:1 Return on Investment (ROI) to their organizations. Clearly, this tangibly impacts the bottom line in a way that makes CEOs take note.
For example, a global energy company recently banked $2.5 million annually by automating more than 100 procurement, finance and accounting processes – resulting in a 67 percent decrease in manual average handling time. Automating rote processes frees employees to focus on more strategic activities, while freeing funds to reinvest in growth opportunities. So, there's no doubt that smart procurement yields tangible, measurable results. And a European consumer goods and services company is leveraging digital solutions such as IoT, analytics and PaaS to fundamentally change their category strategy, effectively model their should costs and gain greater visibility into their pricing and consumption.
Other companies can learn a lot from these Masters. To start, these top performers showed an excellent grasp of essential capabilities – the traditional areas necessary for procurement to operate as a well-oiled machine – such as procurement strategy, sourcing management, supplier relationship management and more.
But top performance today involves much more than the traditional table stakes, particularly as procurement functions expand into areas previously off-limits, working hand-in-hand with the business. Today's Master-level performance involves:
Co-owning budgets for third-party spend. While still a radical notion at many firms, leaders expect procurement to be equally as accountable for growth as the budget holders of individual business units. This takes embedding procurement experts across the organization, understanding demand drivers, influencing specifications and ensuring strategic procurement principles are followed.
Rebasing the cost structure of the business. Understanding spend patterns at a granular level allows procurement experts to develop a forward-looking target of what organizational costs "should be." Digital technologies help with this task because they can be applied to structurally change cost, consumption and/or specifications, creating radically different cost bases than in years past. For example, organizations can use telematics to better understand and manage mileage reimbursement—unlocking a wealth of usage information to enable better data-driven decision making.
Driving margin through the introduction of new products. Top-performing procurement executives are in lockstep with their budget holder counterparts, speaking the same language and driving toward the same global outcomes. As a result, top leaders are 50 percent more likely to be embedded in the product design process, rather than relegated to the sidelines.
In addition to nailing the essentials, Procurement Masters have moved purposefully into differentiating capabilities that transform procurement from a merely transactional function to a role that adds true strategic value, taking on tasks like insight management and risk and regulation. And, crucially, they capitalize on advanced digital technologies like robotic process automation, analytics and the Industrial Internet of Things (IIoT), which have become increasingly integral when it comes to automating tactical activities, triggering automatic reordering and predicting supplier risk. Many "Masters" have also outsourced non-core work, moving to a model that frees them up for more strategic in-house activities.
Initiatives such as these are just the beginning of what forward-thinking procurement leaders are doing. They mark just the start of the value that is possible today, even with just incremental steps toward true digital procurement.
So how can you perfect the art of procurement within your own organization? Chief Procurement Officers (CPOs) should consider the following in their pursuit of procurement mastery:

Procurement is not about processes. It is about meeting larger business goals. CPOs must win the case for relevance with their fellow chief executives. They need to expand spend under management through focusing on "should cost" and become co-owners of total spend. They should also be wholly accountable to the board for all third-party spend.
Outsource and automate. Procurement leaders free up resources to pursue strategic priorities. Those seeking mastery are leap-frogging peers by leveraging a partner ecosystem to execute non-core activities, as well as automating less strategic activities with the help of digital technologies.
Phone a friend. As a CPO, you must foster competitive advantage through third-party relationships. No company can go it alone anymore. Crucial skills not in your wheelhouse need to come from a dynamic ecosystem of partners that specialize in what you do not.
Keep up with the pioneering masters. Pioneering procurement executives are already running tomorrow's race. Know where you need to compete with these pioneers to safeguard your continuing position. Benchmarking is the quickest route to clearly seeing where your company ranks on the scale of fit for tomorrow.
Learning from today's top procurement leaders could spur your company to new heights. Procurement is no longer solely made up of traditional responsibilities like sourcing – tomorrow's winners will embrace digital technologies, outsource capabilities and most importantly, focus on marrying procurement with corporate growth goals.
Kevin Doran is the managing director of Accenture Strategy, supply chain & operations strategy. He can be reached at .(JavaScript must be enabled to view this email address).
January 9, 2018
Subscribe to Supply Chain Management Review Magazine!
Subscribe today. Don't Miss Out!
Get in-depth coverage from industry experts with proven techniques for cutting supply chain costs and case studies in supply chain best practices.
Start Your Subscription Today!
Latest Whitepaper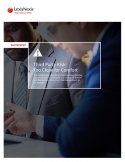 Third Party Risk: Too Close for Comfort
You've got a handle on many of the potential supply chain "disrupters" that can paralyze your business. But the real risk is embedded in areas you may have overlooked.
Download Today!
From the December 2017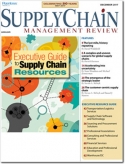 Transportation Trends: The last mile, history repeating
Economic Outlook: A Complex and Uneven Scenario for Global Supply Chains
View More From this Issue