Supply Chain Optimization - Hidden Opportunities to Increase Cash Flows and Working Capital
A company's supply chain represents an untapped opportunity to realize increased short and long-term cash flows and cost savings. However, inefficient supply chain processes clearly have a significant effect on a company's cash position

By
George Kokoris
·
November 29, 2011
George Kokoris
· November 29, 2011
A company's supply chain represents an untapped opportunity to realize increased short and long-term cash flows and cost savings. However, inefficient supply chain processes clearly have a significant effect on a company's cash position. For example:
The lack of a dynamic inventory planning capability can result in 10 - 15 per cent excess inventory buildup.

Ineffective expediting techniques can degrade supplier on-time delivery by 5 per cent or more.

The failure to benchmark freight rates and monitor the use of lowest-cost carriers can increase freight costs by 6 - 7 per cent.
Each of these broken processes represents cash 'leaking' out of a company's operations, cumulative impact of which can drain its competitiveness and profitability. This paper shares insights from Genpact supply chain leaders on how companies can implement effective end-to-end supply chain processes and free up working capital and cash and push for sustained growth.
Subscribe to Supply Chain Management Review Magazine!
Subscribe today. Don't Miss Out!
Get in-depth coverage from industry experts with proven techniques for cutting supply chain costs and case studies in supply chain best practices.
Start Your Subscription Today!
Latest Whitepaper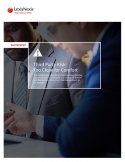 Third Party Risk: Too Close for Comfort
You've got a handle on many of the potential supply chain "disrupters" that can paralyze your business. But the real risk is embedded in areas you may have overlooked.
Download Today!
From the January-February 2018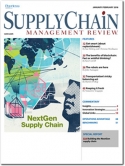 Get Smart (about replenishment)
The Benefits of Blockchain: Fact or Wishful Thinking?
View More From this Issue
Latest Webcast
IAM, IoT and the Connected Supply Chain
There are three primary models of Identity and Access Management (IAM) technology that CTOs, CSOs, and Supply Chain executives are using to enhance their trading partner communities. While each leverages IAM and the IoT as core components only an "Outside-in" approach truly connects people, systems and things reliably and securely across the supply chain.
Register Today!