FREE! 10 Classic Articles from Supply Chain Management Review magazine
Download your copy of these 10 popular articles from our archives now.

By
Clive A Purchase
·
May 1, 2010
Clive A Purchase
· May 1, 2010
Complete the form below to get instant and FREE access to 10 of the most popular articles from the archives of Supply Chain Management Review magazine. All of the articles in SCMR magazine come from thought leaders in the academic, analyst and management consulting communities. Perhaps most importantly, they also include contributions from supply chain practitioners themselves—the individuals who are literally transforming their organizations.
Here's what's included with your free download of "10 Classics: A collection of the best articles from Supply Chain Management Review":
01. Seven Principles of Supply Chain Management
02. Supply Chain Transformation: A Leader's Guide
03. The Greening of Wal-Mart's Supply Chain
04. Benchmarking: Get the Gain without the Pain
05. How to Spot an At-risk Supplier
06. How Cisco Succeeds at Risk Management
07. Procurement: The Missing Link in Innovation
08. Champion of Green: Q&A with Drew Schramm
09. How to Succeed with Supply Chain Planning
10. Putting the Structure in Decision Making
Subscribe to Supply Chain Management Review Magazine!
Subscribe today. Don't Miss Out!
Get in-depth coverage from industry experts with proven techniques for cutting supply chain costs and case studies in supply chain best practices.
Start Your Subscription Today!
Latest Whitepaper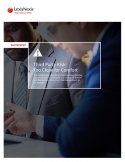 Third Party Risk: Too Close for Comfort
You've got a handle on many of the potential supply chain "disrupters" that can paralyze your business. But the real risk is embedded in areas you may have overlooked.
Download Today!
From the December 2017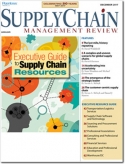 Transportation Trends: The last mile, history repeating
Economic Outlook: A Complex and Uneven Scenario for Global Supply Chains
View More From this Issue