Finding Agility in your Workforce: Are you prepared to meet the next market shift?
Logistics companies need every advantage available to them to be a vendor of choice and remain competitive

By
Admin
·
April 24, 2017
Admin
· April 24, 2017
Logistics companies find themselves at the cross roads of demand-driven supply chain and customer satisfaction. Between logistics outsourcing, reverse logistics, an exploding e-commerce, import and export uncertainty, increasing transportation and storage costs, global economics and regulations, and razor thin margins - logistics companies need every advantage available to them to be a vendor of choice and remain competitive.
While technology is advancing processes with robotics, artificial intelligence and autonomous cars and trucks, people still power the supply chain. Logistics companies' ability to flex and optimize their workforce is a key indicator of how agile they will be to meet their customers' demands and compete as the markets continually shift.
Subscribe to Supply Chain Management Review Magazine!
Subscribe today. Don't Miss Out!
Get in-depth coverage from industry experts with proven techniques for cutting supply chain costs and case studies in supply chain best practices.
Start Your Subscription Today!
Latest Whitepaper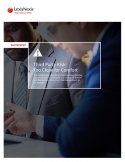 Third Party Risk: Too Close for Comfort
You've got a handle on many of the potential supply chain "disrupters" that can paralyze your business. But the real risk is embedded in areas you may have overlooked.
Download Today!
From the January-February 2018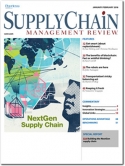 Get Smart (about replenishment)
The Benefits of Blockchain: Fact or Wishful Thinking?
View More From this Issue
Latest Webcast
IAM, IoT and the Connected Supply Chain
There are three primary models of Identity and Access Management (IAM) technology that CTOs, CSOs, and Supply Chain executives are using to enhance their trading partner communities. While each leverages IAM and the IoT as core components only an "Outside-in" approach truly connects people, systems and things reliably and securely across the supply chain.
Register Today!