Dock Scheduling A to Z: A Practical Guide
A practical guide to everything you need to know about buying and implementing a Dock Appointment Scheduling System

By
Admin
·
June 15, 2017
Admin
· June 15, 2017
Operations can be either a painful mess or an efficient gateway to a streamlined and cost-effective organization. Having a smooth functioning dock appointment system can make the difference between those two extremes.

This practical guide provides real-world best practices for selecting and implementing a Dock Scheduling System:

• Signs you might need some help with dock scheduling
• How to decide what kind of system you need » How to 'sell' it internally
• 10 Tips for a successful implementation
From pain to gain, we hope that this guide takes you from identifying the pain points that a dock scheduling system can address, right through scoping, justifying and developing a plan for a successful implementation of one of your operations.
Download Now!
Subscribe to Supply Chain Management Review Magazine!
Subscribe today. Don't Miss Out!
Get in-depth coverage from industry experts with proven techniques for cutting supply chain costs and case studies in supply chain best practices.
Start Your Subscription Today!
Latest Whitepaper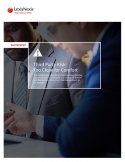 Third Party Risk: Too Close for Comfort
You've got a handle on many of the potential supply chain "disrupters" that can paralyze your business. But the real risk is embedded in areas you may have overlooked.
Download Today!
From the September-October 2017
View More From this Issue