Digital Trade Transformation: Ten Observations for 2018: Part II
Trade compliance has become a hot issue since the election, with economic nationalism rising across multiple global trading powers.

By
Michael Gravier
·
December 11, 2017
Michael Gravier
·
December 11, 2017
Editor's Note: This is the second installment of a three-part forecast.
Reducing Uncertainty
Uncertainty refers to risk of unreliable information or behavior. Information is vital in global supply chains, and not just for tracking shipments. The spate of scandals regarding major Japanese companies – Takata, Toray, Mitsubishi, Kobe Steel, etc. – fabricating quality data and European diesel emissions cheating demonstrate how much supply chains rely on trust as much as information. Some developments in 2018 will target the reduction of uncertainty.
Observation 4: You Will Rely on Blockchain
Globally sprawling supply chains mean globally sprawling databases and motivations to provide accurate information. Blockchain provides a mechanism for creating and maintaining the validity of a centralized digital ledger visible by all relevant parties. IBM is collaborating with giants like Maersk, Unilever, Wal-Mart and Nestlé to launch a global blockchain system, citing many billions in savings. Smart managers will start planning how to leverage the unprecedented transparency and auditability of information to reduce a variety of supply chain bugaboos running the gamut from fraud, errors, inventory mismatches, and ethical and sustainable sourcing.
Observation 5: Shipping Will Become More Reliable
The Federal Maritime Commission just approved the governance structure for the New York Shipping Exchange. The outcome may fundamentally change the risk equation for shippers and carriers. Currently, no enforcement exists for shipping contracts, so shippers can fail to show because they found a better deal elsewhere, and ships can leave less lucrative cargo behind when they sail. The New York Shipping Exchange creates a market that provides more certainty of cargo utilization on ships by brokering a security deposit, which provides stability to both availability of space and price. The improved capacity visibility also facilitates use of dynamic pricing, which is economically more efficient. In a year when large container ships are projected to create an over-capacity situation, smart managers will watch for services like the New York Shipping Exchange to provide stability and rational pricing next year.
Observation 6: Watch for Zombies
A wave of zombies stalks the globe! These are companies that have been propped up by government support since the Great Recession. Europe, China and the U.S. all have companies that should have gone bankrupt – yet they continue to take customers from healthier and stronger companies, making those companies suffer and possibly become zombies themselves. As economies strengthen and governments look to their bloated debts, smart managers will watch for a wave of bankruptcies, acquisitions, mergers and other signs of failure – and they'll have contingency plans in case key suppliers and customers fail.
Coming on Monday: Rise of Digital Matching
December 11, 2017
Latest Whitepaper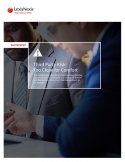 Third Party Risk: Too Close for Comfort
You've got a handle on many of the potential supply chain "disrupters" that can paralyze your business. But the real risk is embedded in areas you may have overlooked.
Download Today!
From the December 2017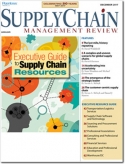 Transportation Trends: The last mile, history repeating
Economic Outlook: A Complex and Uneven Scenario for Global Supply Chains
View More From this Issue