Digital Trade Transformation: Ten Observations for 2018: Part I
Trade compliance has become a hot issue since the election, with economic nationalism rising across multiple global trading powers.

By
Michael Gravier
·
December 7, 2017
Michael Gravier
·
December 7, 2017
Editor's Note: This is the first installment of a three-part forecast.
Trade compliance has become a hot issue since the election, with economic nationalism rising across multiple global trading powers. Refuting the rhetoric, global trade has continued to grow after the short-lived dip from 2008-2009. The reason is simple – advances in technology and energy continue to exponentially grow GDP per capita around the world, and growth needs markets for both suppliers and customers.
The coming year will be a watershed for the digitization of global supply chains as companies respond to new initiatives enacted by governments and inter-governmental organizations. These trends fall into three categories: facilitating participation, reducing uncertainty and the rise of digital matching.
Facilitating Trade Participation
The National Export Initiative launched in 2010 to double exports, particularly from small and medium enterprises – an initiative held back in part by economic headwinds, the inability of small and medium sized businesses to manage the regulatory and compliance burdens and the fact that it only addressed one half of the trade equation as imports were left out. Seven years later, and the United States still lacks a comprehensive trade strategy. This has created an acute need that inspires these three observations.
Observation 1: The East Will Set Standards
Compare the U.S.'s lack of strategy to China's One Belt One Road initiative that combines land and maritime connections across Asia to Europe, providing China unprecedented access across the region with three-quarters of the world's energy resources and population, yet only about a quarter of the world's goods and services and GDP. This is a region ripe for growth – certainly a bet with a greater upside than leaving China's massive investments in slow-growing, low interest Western government securities. China has also stepped in to take leadership of the TPP-11.
China has invested almost a trillion dollars in the OBOR initiative out of a total planned $4.4 trillion, and no other country has a comparable initiative. China's OBOR will see Chinese standards become the norm across most of Asia across to Europe, and the kind of trade needed across Asia is exactly the kind of trade needed to ensure prosperity for China, India, and other Asian countries and won't include Western countries. Smart managers will watch for shifts in product performance standards, and for suppliers to shift focus to OBOR and TPP-11 countries in pursuit of growth and more accessible markets.
Observation 2: The Rise of Global e-Commerce
Global e-commerce has grown exponentially and could make up 20% of global trade by value by 2020. UPS just acquired Sandler & Travis Trade Advisory Services, the world's largest dedicated global trade compliance management firm. The acquisition adds world-class trade management services to UPS's ability to provide cross-border services and advice to small and medium businesses. This is one example of a wave of companies offering services that facilitate global e-commerce.
The biggest issue afflicting North American, European and Chinese retailers is that the last mile for e-commerce is costly! Solutions like BlueJay Solutions' new MobilSTAR global transportation management system have started to provide global end-to-end supply chain visibility. With new trade agreements coming online and NAFTA being re-written, watch for the inclusion of e-commerce rules. Smart managers will look for services that facilitate multi-channel responsiveness to customers.
Observation 3: Prepare for Distributed Manufacturing
Whether you're an established economy or a rising star, the digital economy brings with it better and more jobs. Countries like China have doubled down on the digital economy because most of its jobs are susceptible to automation – imagine the shedding of jobs that occurred in the U.S. over the past half-century occurring ten times faster. The job situation motivated the U.S. to begin the process of re-looking at NAFTA.
The reality is that jobs will slowly dawn on various players during the upcoming year as geography no longer defines supply chains in quite the same way. For example, Alibaba has already developed "taobao villages," factories distributed throughout China including in some of the poorest counties that are connected to the world economic network by technology.
More and more, countries are discovering that they can effectively import labor by relying on technology to connect far-flung workers to end markets. Smart managers will take the time to map their supply chains as this presents both risk and opportunity – especially for complying with labor and other standards.
December 11, 2017
Latest Whitepaper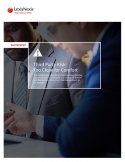 Third Party Risk: Too Close for Comfort
You've got a handle on many of the potential supply chain "disrupters" that can paralyze your business. But the real risk is embedded in areas you may have overlooked.
Download Today!
From the December 2017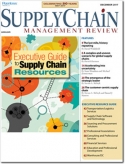 Transportation Trends: The last mile, history repeating
Economic Outlook: A Complex and Uneven Scenario for Global Supply Chains
View More From this Issue