Dell Edge Gateways for Commercial Telematics
The ROI for Fleet Management: Why OEMs Should Integrate and Why Fleet Owners Should Invest

By
LM Staff
·
November 2, 2017
{scmr_abstract}
Download Now!
Sponsored by:
Technology in the News
Face security threats head-on. Protect data beyond perimeter.
The E-commerce Logistics Revolution
Securing IoT data across the connected supply chain
Echo Global Logistics partners up with project44 to automate LTL-based shipments
Logistics Network Analysis
More Technology News
By
LM Staff
· November 2, 2017
Smart edge gateways based on open standards and platforms are seeing an increase in adoption. This is due to faster ROI by enabling a wide range of applications from vehicle remote diagnostics and operational efficiencies to driver safety and infotainment. Early adopters are reaping the benefits of savings on fuel and maintenance, as well as lower driver attrition, due to better safety and comfort services.
In this whitepaper, ABI research examines how Dell EMC is democratizing the commercial telematics market with open hardware, software, and sensor platforms to enable this industry transformation.
Download Now!
Subscribe to Supply Chain Management Review Magazine!
Subscribe today. Don't Miss Out!
Get in-depth coverage from industry experts with proven techniques for cutting supply chain costs and case studies in supply chain best practices.
Start Your Subscription Today!
Latest Whitepaper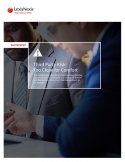 Third Party Risk: Too Close for Comfort
You've got a handle on many of the potential supply chain "disrupters" that can paralyze your business. But the real risk is embedded in areas you may have overlooked.
Download Today!
From the January-February 2018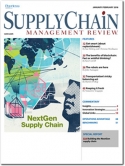 Get Smart (about replenishment)
The Benefits of Blockchain: Fact or Wishful Thinking?
View More From this Issue