Competitive Supply Chains Roadmap
The best supply chains are more than a collection of technologies and processes. As supply chain evolves from tactical to strategic, they enable a company's go-to-market strategy and competitive position.

By
Larry Lapide
·
February 21, 2017
Larry Lapide
· February 21, 2017
What defines a competitive supply chain?
That is a question that Insights columnist Larry Lapide has explored for years. The short answer, according to Lapide, is that a competitive supply chain is essential to a company's go-to-market strategy, and important to winning business.
It really comes down to three critical elements: excellence, strategic alignment and optimized demand management. As Lapide wrote in a recent Insight's column, the three elements work together: "Without formal, routine joint decision-making processes, a supply chain organization is not really playing a major role in executing a corporate strategy, even if it is strategically aligned."
In this special publication, we're bringing together eight articles and columns from past issues of Supply Chain Management Review. Think of them as a roadmap for the do-it-yourself supply chain strategic project manager—the kind of manager we defined in last month's issue—who doesn't necessarily need help from the outside consulting community.
Click here to view and download the eight articles in PDF format.
As always, Lapide welcomes your comments and questions at .(JavaScript must be enabled to view this email address).
Subscribe to Supply Chain Management Review Magazine!
Subscribe today. Don't Miss Out!
Get in-depth coverage from industry experts with proven techniques for cutting supply chain costs and case studies in supply chain best practices.
Start Your Subscription Today!
Latest Whitepaper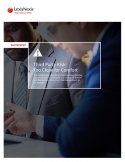 Third Party Risk: Too Close for Comfort
You've got a handle on many of the potential supply chain "disrupters" that can paralyze your business. But the real risk is embedded in areas you may have overlooked.
Download Today!
From the January-February 2018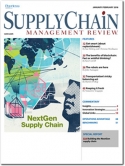 Get Smart (about replenishment)
The Benefits of Blockchain: Fact or Wishful Thinking?
View More From this Issue