Change Your Inventory Mindset
The sooner you can learn the difference between "good" and "bad" inventories, the better off your supply chain will be.

By
Larry Lapide
·
May 21, 2010
Latest News
Third Party Risk: Too Close for Comfort
The State of the DC Voice Market
Vanderlande invests in collaborative robot specialist Smart Robotics
SSI Schaefer expands North American headquarters
Truck tonnage bounces back in October, reports ATA
More News
Latest Resource
Third Party Risk: Too Close for Comfort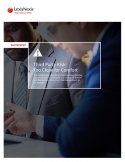 You've got a handle on many of the potential supply chain "disrupters" that can paralyze your business. But the real risk is embedded in areas you may have overlooked.
All Resources
By
Larry Lapide
·
May 21, 2010
Ok, I have to confess that I love inventories. That is, "good inventories that are deployed for good reasons such as to mitigate against uncertainties, or are based
on sound economic principles. Of course, I don't like "bad inventories that don't serve a purpose and inevitably wind up being drastically marked down in price or disposed of.
Many supply chain managers would think me wrong. They and financial managers don't often appreciate inventory. Generally, the latter managers especially don't like inventory assets, since they don't understand the benefit of using valuable financial capital to acquir…e and just hold them. Lean advocates are charged with cutting waste to the bone and in their zeal for getting leaner often eliminate good inventory with the bad. They risk a problem in customer service because their supply chains might then be too lean or emaciated (in a sense).
While working at AMR Research, I wrote an article where I used the analogy that inventory is like cholesterol. Both have two components to them: good and bad. So like cholesterol, you want to keep your total inventories as low as possible, but you don't want the good component to get too low. How did I become such an inventory advocate?
Over 30 years ago I started my career at Arthur D. Little (ADL), a consulting and research firm that at that time was at the forefront of inventory management consulting. Robert (Bob) Brown had worked there. He is the father of the exponential smoothing forecasting methods used to feed scientific inventory management processes, such as statistically setting safety stocks. Many of the forecasting and inventory methods Bob espoused were developed during his tenure there, and today many systems still enable them. Additionally, ADL's President, John F. Magee, wrote one of the first (if not the first) industry books on the topic, titled Production Planning and Inventory Control. He introduced basestock inventory management principles. These words are ingrained in my mind from the 2nd edition of the book: "Basically, inventories serve to decouple successive operations in the process of making a product and getting it to consumers. And further, "…inventories free one stage in the production-distribution process from the next, permitting each to operate more economically. (Of course, the latter holds only to the point where decoupling no longer yields benefit). Thus, I learned that inventory decouples (often uncertain) operations to ensure a smooth flow of product throughout a supply chain—however, to a point.
The View of Inventory Must Change
My pedigree has given me a healthy view of inventory, as I'm able to differentiate good from bad inventory. Most managers now need this view for two reasons. The first is that good inventories need to be pre-positioned in order to fully capture the economic rebound and take advantage of the impending uptick in business.
The second reason is that (as I noted in my March/April 2010 SCMR column, "Cheap Oil Is Dead—Again) today's cost- and inventoryefficient supply chains will need to change to energy-efficient ones as the price of oil continues its gradual climb upward. Energy efficiency will require becoming less fixated on reducing inventories via leveraging faster energy-inefficient freight modes, and instead becoming more reliant on slower, more efficient modes—such as ocean rather than air, barge rather than rail, and rail rather than truck for inbound and inter-facility shipments. However, this move to energy-efficient chains could lead to an increase of intransit inventories and other inventories that result from using slower transport modes. Additionally, more goods will need to be stocked closer to consumers. Both factors can increase inventories if managers do not deploy only "good inventories along energy-efficient supply chains.
Understanding Good Inventories
Bad inventories are those deployed just-in-case as well as those deployed using gut instincts rather than sound analysis. In contrast, good inventories are positioned with very specific purposes and are based on economic principles. Examples of good inventories include:
The best inventories are customer-facing. These are held near enough to the consumer to meet uncertain demand while meeting delivery requirements. In reality, some type of inventory needs to be deployed in advance of a customer order so that fulfillment can be flawlessly executed; whether the inventory is held in raw materials, works-inprocess, or finished-goods form. This mindset also applies to inventory held by either a company or its suppliers.
Replenishment or cycle stocks are good when they are based on optimizing order quantities and production lot sizes. The optimizations normally involve tradeoffs, such as balancing inventory holding costs versus setup/ordering costs.
Buffer inventories are generally good because they decouple operations. Per the theory of constraints, inventory should be held before a bottlenecked operation to ensure that its throughput is maximized. Similarly, inventory needs to be held following an unreliable operation to ensure that any disruptions do not impact downstream operations.
Safety stocks are good inventories because they are needed to cover vagaries in customer demand and unreliable supply. They decouple supply and demand operations to ensure reliable supply. If they are set based on achieving levels of customer service, they are largely good. However, if based upon an arbitrary rule-ofthumb, such as weeks-of-supply, they will likely include bad inventory for some items and not enough good inventory for others.
Pre-build inventory is mustered in anticipation of high seasonal demand to work around manufacturing limitations and to smooth production. This inventory is mostly good because it allows production capacity to be less than what peak demand dictates, thus saving expensive capital expenditures. A certain amount of bad inventory can be generated if pre-building is done too soon or in greater quantities than needed. Analysis is needed to minimize bad pre-build inventories.
The above examples represent almost all types of good inventories. The real challenge for supply chain managers is to shift their company's mindset regarding the value of inventory. The cheap oil era is history and hopefully soon the recession will go away as well. Their demise should bring a healthy respect for inventory so that managers don't go overboard and throw bad inventory after good.
May 15, 2017
About the Author
Larry Lapide Dr. Lapide is a lecturer at the University of Massachusetts' Boston Campus and is an MIT Research Affiliate. He received the inaugural Lifetime Achievement in Business Forecasting & Planning Award from the Institute of Business Forecasting & Planning. Dr. Lapide can be reached at:
[email protected]
Subscribe to Supply Chain Management Review Magazine!
Subscribe today. Don't Miss Out!
Get in-depth coverage from industry experts with proven techniques for cutting supply chain costs and case studies in supply chain best practices.
Start Your Subscription Today!
Latest Whitepaper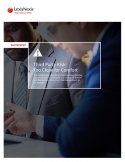 Third Party Risk: Too Close for Comfort
You've got a handle on many of the potential supply chain "disrupters" that can paralyze your business. But the real risk is embedded in areas you may have overlooked.
Download Today!
From the September-October 2017
View More From this Issue