CBRE data shows decent, but changing trends for logistics & industrial real estate in the Americas
While many key market themes remain intact as they relate to the industrial real estate market, there are also some apparent changes, too, according to the May edition of CBRE's "Americas Industrial & Logistics Trends Report.

By
Jeff Berman, Group News Editor
·
May 24, 2017
Jeff Berman, Group News Editor
·
May 24, 2017
While many key market themes remain intact as they relate to the industrial real estate market, there are also some apparent changes, too, according to the May edition of CBRE's "Americas Industrial & Logistics Trends Report.
The report's myriad data points, which are based on feedback from more than 950 CBRE brokerage and investment professionals, highlight the current state of the industrial real estate market, which continue to hit, or approach, all-time highs for certain benchmarks, including:
net absorption growth of America's industrial and logistics space continued for the 28th consecutive quarter in Q1, with occupancy at 95.2% for its highest level since 2002, while slowing on the heels of near-record user demand in 2016;
while net absorption fell sequentially and annually, the vacancy rate dropped 10 basis points to 4.8%, with the availability rate up slightly at 8% (CBRE said that leasing demand fell short of new construction for the first time since Q3 2010, with the gap being narrow and having a negligible effect on overall availability;
due to tight supply, the net rent index rose 1.6% in Q1 and 6.7% annually to $6.24 per square-foot, its highest level since 1980;
new development at 46.5 million square-feet in Q1 was down 11% compared to Q4 2016 and up 17.4% annually; and
industrial and logistics was the only CBRE sector to see a gain in investment volume, up 3.2% to $13.9 billion, in Q1, with individual asset sales rising 15% annually
David Egan, CBRE head of industrial and logistics research in the Americas, said in an interview that the biggest takeaway is the first quarter decline in user demand in leasing across the Americas markets, specifically in the United States.
"It is low and noticeably lower than the numbers that came before it," he said, "and it raises some red flags, with people wondering if it is an ominous sign for the state of the market. We asked our brokers if they were seeing a decrease in demand because user activity, or users looking for space in the market, is going away or is there another reason things slowed down? What they said almost unanimously was that there is a lot of activity in the market, with users looking for space and the aggregate amount of activity for trying to get deals done is as good as it has been at any point in this cycle. There is not a slowdown in users looking for space in the market. It has more to do with there not being much space left, and vacancy rates are so low that the ability to get a deal done is getting difficult. When vacancy rates are below 5% , it is really hard to get a high net absorption number, because there is not a lot of space left."
While brokers may be somewhat frustrated because they are trying to get deals done, Egan said they are not worried about this cycle being over or some sort of dynamic shift in the market. It is just harder to get a deal done at the moment.
Part of this is due to a lack of space, with some markets getting more expensive and leading to a bit of a slowdown in user activity, as well as a fourth quarter slowdown caused by some Election uncertainty, too, due to a degree of not knowing how things will play out with a new Administration as to whether it will be an economic plus or negative.
"Although activity has slowed, we are still really positive about the market, and we are not seeing users leave the market," he said. "We are just seeing them take a little more time to make a decision."
A big downside for the length of this current cycle, said Egan, is that vacancy rates have gotten so low that the supply side has not been able to keep up with demand and will not give the supply side a chance to catch up even though there is a decent amount of construction happening, with 50 million square-feet of new space and another 200 million square-feet in the pipeline, which Egan said is a healthy amount.
"A lot of times this late in the cycle that is unhealthy as oversupply can be a worry," he explained. "Right now, we are barely undersupplied, a bit of a user-side slowdown is going to give the supply side a bit of a chance to catch up, as those users will have more choices and options to get deals done in the second half of this year.
CBRE said the dominant users leasing space in most markets are in the e-commerce, 3PL and food & beverage markets.
The needs for users in these markets, said Egan, are getting more diverse, with those three markets "dominating" demand in the industrial space. Earlier in this cycle, from 2012-2014, most of their attention was focused on super big box facilities that were 500,000 square-feet and above and largely in major core markets like Chicago, Los Angeles, Dallas, and Atlanta with big regional population centers.
"There is still plenty of activity happening in those types of buildings and markets, but we have seen a real significant shift in the diversity of demand from those types of users from the major markets to secondary and tertiary markets, which are smaller and don't have as big of population centers," he said. "There is also more variety of building types, not just big box but also medium box and light industrial that are aimed towards getting quicker and faster service to the customer. This requires having inventory in as many places as possible and being closer to your customers. And when a customer makes an order, it can get from the warehouse to the front door in as short a timeframe as possible. That requires being as quick as one can be, and it has been a relatively new shift in recent years, with more markets seeing more activity with big institutional users that generate activity in a lot of different sized categories."
May 25, 2017
Latest Whitepaper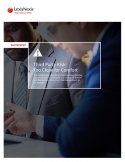 Third Party Risk: Too Close for Comfort
You've got a handle on many of the potential supply chain "disrupters" that can paralyze your business. But the real risk is embedded in areas you may have overlooked.
Download Today!
From the December 2017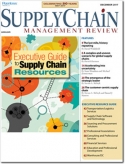 Transportation Trends: The last mile, history repeating
Economic Outlook: A Complex and Uneven Scenario for Global Supply Chains
View More From this Issue