Bud LaLonde's Legacy
A mentor to students and supply chain professionals alike, LaLonde was among the first to recognize the power of supply chain management.

By
Frank Quinn, Editor Emeritus
·
January 17, 2018
Frank Quinn, Editor Emeritus
·
January 17, 2018
Bernard J. "Bud" LaLonde left a legacy to supply chain professionals that will last for generations to come. Bud died in December at the age of 84 after a thought-leadership career in logistics and supply chain that spanned close to 50 years.
As a professor at The Ohio State University, Bud taught and mentored hundreds of students who would go on to positions of prominence in our profession. Thousands more supply chain professionals would get to know him through his books and articles as well as though his tireless contributions to the Council of Supply Chain Management Professionals (CSCMP). In fact, Bud was awarded CSCMP's Distinguished Service Award in 1978.
One of the great advocates of our profession, Bud was among the very first to identify and articulate the power and potential of SCM. A prime example was his "Insights" column that appeared in the first edition Supply Chain Management Review, back in 1997. In discussing whether this new concept of SCM was a "myth or reality", Bud argued—convincingly as always—that companies not embracing this new reality put at risk the value they provided to their customers.
In recognition of the enduring LaLonde legacy, we've reprinted that column here.
---
Frank Quinn was the founding editor of Supply Chain Management Review until his retirement in 2013.
January 17, 2018
Latest Whitepaper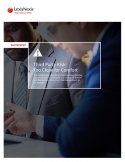 Third Party Risk: Too Close for Comfort
You've got a handle on many of the potential supply chain "disrupters" that can paralyze your business. But the real risk is embedded in areas you may have overlooked.
Download Today!
From the January-February 2018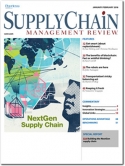 Get Smart (about replenishment)
The Benefits of Blockchain: Fact or Wishful Thinking?
View More From this Issue