BDO shares NAFTA risk mitigation strategies as rules may change
The manufacturing industry is split on the proposal to strengthen NAFTA's Rules of Origin

By
Patrick Burnson, Executive Editor
·
August 23, 2017
{scmr_abstract}
Patrick Burnson, Executive Editor
·
August 23, 2017
AS NAFTA renegotiations get underway, BDO shared a few insights on risk mitigation with LM readers. Eskander Yavar, national leader of BDO Management Advisory Services, provides answers in this exclusive interview.
Logistics Management: How could changes to the Rules of Origin could affect automakers' supply chains, particularly in non-NAFTA countries?
Eskander Yavar: The manufacturing industry is split on the proposal to strengthen NAFTA's Rules of Origin, which stipulate what must happen to inputs from non-NAFTA countries for the final, exported product to qualify for NAFTA benefits. NAFTA's tariff elimination has been instrumental to the growth of automobile trade in the U.S., Canada and Mexico. A change in the way regional content is calculated could have significant repercussions for automakers' supply chains, especially for companies with suppliers in non-NAFTA countries. Steel manufacturers, on the other hand, are largely in favor of increasing the minimum content requirements for steel-containing goods.
LM: Why will discussions around the digital economy be crucial to manufacturers digitized operations?
Yavar: The original NAFTA agreement was negotiated in the early days of the Internet, long before e-commerce went mainstream, and before the digital economy was a central factor in many business models. As manufacturers digitize their operations, increasingly relying on automated processes and data-driven decision-making, the issue of fair digital trading practices has loomed large in their minds.
One of the most important considerations for manufacturers is the need for the NAFTA agreement to be modernized to address the changes wrought by the digital economy. Achieving a free flow of information across borders is particularly critical for manufacturers with global supply chains and decentralized facilities.
LM: Why isn't reducing the trade deficit the biggest concern for manufacturers?
Yavar: Compared to other non-NAFTA countries, the U.S. manufacturing trade with Canada and Mexico has been generally balanced in recent years. Imports from Canada and Mexico have actually slowed as a share of total U.S. imports. While the Trump administration has been a vocal champion for the manufacturing industry, this is one area where the industry's viewpoint differs from the president's.
LM: Can you comment on other points of negotiation, namely the NAFTA Professional (TN) visa and the incorporation of a digital trade framework are most critical in furthering manufacturers' biggest future priorities?
Yavar: The incorporation of a digital trade framework into NAFTA is one area where all three countries agree. However, it will be tough to negotiate digital trade policies into NAFTA with so many other red-line disagreements that could overshadow or derail them. Another hot-button issue manufacturers have identified as a priority in the renegotiations is intellectual property protection. Canada is on the National Association of Manufacturers' country watchlist for IP violations.
Among other issues, the U.S. will be looking to update policies for counterfeiting and piracy, address insufficient recourse to fight IP infringement and insufficient protection of confidential data, and re-examine the patent review process.
Many manufacturing leaders are also focused on the potential loss of the NAFTA Professional (TN) visa. The TN visa, which allows highly skilled Canadian and Mexican citizens, as NAFTA professionals, to work in the U.S. in prearranged business activities. This has been an especially popular option among foreign engineers and their U.S. employers. If the visa were to be changed or eliminated, employers may have to reconsider their compensation, benefits and incentives in order to compete for a relatively small pool of engineering talent pulled in many different directions.
LM: What are the Implications for manufacturers of the U.S. walking away from the negotiating table – and what an end to NAFTA could mean?
Yavar: Canada and Mexico are vital trading partners to U.S. manufacturers, so terminating the agreement would likely be disastrous for American manufacturers and American workers alike. Many would argue walking away from the table isn't an option. For a sense of how important NAFTA nations are to the U.S. manufacturing industry, consider that Canada and Mexico purchased one-third of all U.S. manufactured goods exports in 2016. That's more than the next ten U.S. trading partners combined.
Trade with Canada and Mexico supports nearly 14 million U.S. jobs, and nearly five million of these net jobs are supported by the increase in trade generated by NAFTA, according to an economic analysis by the U.S. Chamber of Commerce.
LM: Finally, which national Free Trade Zones (FTZs) will feel the greatest impact if NAFTA is altered or dissolved?
Yavar: Uncertainty around global trade, including not only NAFTA but also the TPP and the administration's trade policies in general, leaves a significant political gap where other trade plan ideas could emerge, particularly if NAFTA were to be significantly altered or dissolved. Some of the ideas on the table would create enormous free trade zones. For example, since 2004, China has discussed a vision for a potential Free Trade Area of Asia Pacific (FTAAP), that would include countries around the entire Pacific Rim from South America to Asia. While predicting an outcome of the current talks is premature, if NAFTA were dissolved, the U.S. may have a more difficult time reconciling protectionist trade views with those of other major economies, potentially threatening its seat at future negotiation tables.
August 24, 2017
About the Author
Patrick Burnson, Executive Editor Patrick Burnson is executive editor for
Logistics Management
and
Supply Chain Management Review
magazines and web sites. Patrick is a widely-published writer and editor who has spent most of his career covering international trade, global logistics, and supply chain management. He lives and works in San Francisco, providing readers with a Pacific Rim perspective on industry trends and forecasts. You can reach him directly at
[email protected]
Subscribe to Supply Chain Management Review Magazine!
Subscribe today. Don't Miss Out!
Get in-depth coverage from industry experts with proven techniques for cutting supply chain costs and case studies in supply chain best practices.
Start Your Subscription Today!
Latest Whitepaper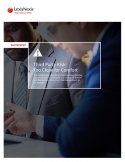 Third Party Risk: Too Close for Comfort
You've got a handle on many of the potential supply chain "disrupters" that can paralyze your business. But the real risk is embedded in areas you may have overlooked.
Download Today!
From the December 2017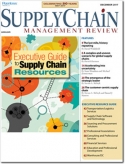 Transportation Trends: The last mile, history repeating
Economic Outlook: A Complex and Uneven Scenario for Global Supply Chains
View More From this Issue