Automotive & Industrial Companies Could Unlock $1 Billion Each in Revenue, According to Accenture
The Competitive Agility Index identifies future corporate leaders across nine industries based on strategy for growth, profitability, and sustainability and trust

By
SCMR Staff
·
August 1, 2017
Latest News
Procurement is getting its digitized act together
Third Party Risk: Too Close for Comfort
2018 MHI Innovation Award finalists announced
The Overlooked Competitive Advantage: Connected Teams
Reusable Packaging Association announces 2018 board and committee chairs
More News
Latest Resource
Third Party Risk: Too Close for Comfort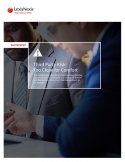 You've got a handle on many of the potential supply chain "disrupters" that can paralyze your business. But the real risk is embedded in areas you may have overlooked.
All Resources
By
SCMR Staff
·
August 1, 2017
Further evidence that the digitization of supply chains has been highly disruptive surfaced today with the release of its impact on the auto industry.
"With digital, the game has changed," says . "Disruption is whipsawing industries, creating new contestable markets," say anaysts for Accenture Strategy.
But business strategies haven't evolved at the same pace, analysts, who say too many companies have one-dimensional strategies driven mainly by chasing growth or driving profit, with little (or no) focus on sustainability and trust, and no integration across the three.
Winners in the future will possess an integrated strategy, featuring equal emphasis on growth, profitability, and sustainability and trust.
A new index has revealed a billion reasons (all of them dollars) why companies need to adopt an integrated strategy to sharpen their competitive agility.
A new and unique performance index – the Competitive Agility Index – identifies the corporate leaders of the future across nine industries, including automotive and industrial, consumer goods and services, retail, life sciences, communications, electronics and hi-tech, energy, insurance and utilities.
Accenture Strategy conducted the analysis and built the Index from a set of nine separate performance measures to create a forward-looking view on potential future competitiveness. The analysis shows that the companies best positioned for competitiveness have an interdependent strategy focused equally on growth, profitability and sustainability and trust.
The opportunities uncovered in the Competitive Agility Index include the massive growth potential for automotive and industrial companies. The Index shows that companies in these sectors have a tremendous revenue growth opportunity – in the range of $1 billion per company – that can be achieved by an interdependent business strategy with equal focus on all three competitiveness dimensions.
Among the top automotive and industrial companies on the Index are:
BMW, based in Munich, Germany
Schneider Electric, based in Rueil-Malmaison, France
Honeywell, based in New Jersey, U.S.
Daikin, based in Osaka, Japan
"While these leaders each have unique business strategies, they've all prioritized the three competitiveness dimensions. They are investing for growth in new digital capabilities, focusing on cost and implementing tighter profitability measures, and exploiting their brands to position themselves as trusted suppliers in the digital age," said Mark Pearson, Senior Managing Director, Accenture Strategy.
The Competitive Agility Index shows that this interdependent strategy can yield far greater revenue and EBITDA improvement than one that focuses on just one or two of the dimensions. For example, according to analysis of a sample set of 47 automotive/industrial companies, a $30 billion company that adopts this strategy could see revenues rise almost $1 billion and a two percent increase on EBITDA.
Take BMW for example, with a Competitive Agility Index score of 63.8 (compared to the industry average of 34.6), the company has adopted the interdependent strategy with equal emphasis on sustainability and trust – something that some automotive companies have neglected. BMW factors in consideration of the environment along the entire value chain, and has a clear commitment to the preservation of resources embedded in its approach.
Interestingly, the leaders identified by the analysis are in stark contrast to the leaders in market cap or total shareholder return – the more traditionally used metrics for success. "Traditional metrics are backward looking and only shed light on part of a company's operations, failing to register how strong a company is in areas like sustainability and trust," said Bill Theofilou, Senior Managing Director, Accenture Strategy. "Companies that don't adopt an interdependent strategy that integrates the three competitiveness dimensions are at risk for being over estimated by the market or worse, succumbing to the competition. The good news is every company can start improving their performance immediately – the key is knowing where to start."
Moreover, the competitiveness dimension that automotive and industrial companies need to put immediate emphasis on is growth. "The dramatically changing sales channel structures, as well as the emergence of whole new mobility business models like car and ride sharing and electrification of cars, will offer enormous opportunities for the automotive company of the future in terms of growth. And those that do not seize these opportunities on time will be simply left behind," added Pearson.
August 1, 2017
Subscribe to Supply Chain Management Review Magazine!
Subscribe today. Don't Miss Out!
Get in-depth coverage from industry experts with proven techniques for cutting supply chain costs and case studies in supply chain best practices.
Start Your Subscription Today!
Latest Whitepaper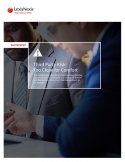 Third Party Risk: Too Close for Comfort
You've got a handle on many of the potential supply chain "disrupters" that can paralyze your business. But the real risk is embedded in areas you may have overlooked.
Download Today!
From the January-February 2018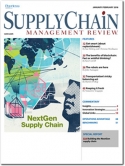 Get Smart (about replenishment)
The Benefits of Blockchain: Fact or Wishful Thinking?
View More From this Issue
Latest Webcast
IAM, IoT and the Connected Supply Chain
There are three primary models of Identity and Access Management (IAM) technology that CTOs, CSOs, and Supply Chain executives are using to enhance their trading partner communities. While each leverages IAM and the IoT as core components only an "Outside-in" approach truly connects people, systems and things reliably and securely across the supply chain.
Register Today!