4 Steps to Effective Change Management in 2018
It's not really surprising that 75 percent of companies are still taking incremental steps towards digital transformation, rather than executing a fully rolled-out strategy

By
Chris Crane
·
December 14, 2017
Latest News
Third Party Risk: Too Close for Comfort
The State of the DC Voice Market
AutoStore opens U.S. headquarters
LogisticsExchange begins trading, bringing predictability to the transportation market
Port of Long Beach makes bold move to become greener and more competitive
More News
Latest Resource
Third Party Risk: Too Close for Comfort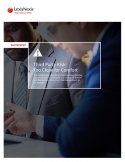 You've got a handle on many of the potential supply chain "disrupters" that can paralyze your business. But the real risk is embedded in areas you may have overlooked.
All Resources
By
Chris Crane
·
December 14, 2017
Editor's Note: Chris Crane, Co-Founder & VP of Product at Scout RFP
Digital transformation: It's the initiative on everyone's lips, but what's less clear is how to go about it effectively. The challenge is compounded when you're working with processes that become almost intrinsic to your business operations through the years. It's not really surprising that 75 percent of companies are still taking incremental steps towards digital transformation, rather than executing a fully rolled-out strategy (according to Progress Software research).
There's something that you, procurement leaders, can do about this. By implementing the right technology – and taking an implementation strategy that will be successful in and of itself – you can both empower your team and drive business success. Here are four ways to go about it:
1.Get everyone on board beforehand
If your employees aren't excited about a new solution, you're already setting yourself up for potential implementation failure. To get the ball rolling, champion the solution even before it's implemented. If the first time your team is hearing about the new technology is in the training, it's already too late. Explicitly (and repeatedly) outline how it will make their jobs easier and more effective. For instance, if the solution will streamline vendor selection and help your company track sourcing spend, highlight that as a very tangible benefit to your team's day-to-day work.
2.Champion results
After you've championed the solution through implementation, turn your attention towards broadcasting its results. Make sure that you're measuring ROI – whether that be direct savings or improved efficiency – so you can make it visible as soon as possible. By highlighting those wins, the entire company can understand how the business as a whole is benefiting and why they should support the solution. How exactly you choose to champion the results is up to you, but pick a way that will resonate with your team, whether it takes the form of a formal staff meeting or a shout-out in Slack.
3.Enlist the help of a Center of Excellence
Technology implementation (and execution) isn't a task that you should shoulder alone. That's where a Center of Excellence (CoE) comes in. If you don't already have a CoE, consider selecting a group of individuals who will become the tool's experts, guiding others through implementation, sharing best practices, and reporting successes. You'll find that people are much more apt to adopt a new technology if they have the proper support system.
4.Practice patience
Patience is one of the most important aspects of great change management. Good things take time, so a full implementation of a new technology solution will undoubtedly be a process. While it's easy to get frustrated when a solution doesn't click into place in the first week, persevere, listen to feedback, and adjust as needed. Your patience will pay off!
While many businesses have pulled off digital transformation on the customer-facing front, they still lag behind when it comes to implementing technology for internal activities, according to a recent report from Harvard Business Review in partnership with Scout RFP. If you're stuck in a digital transformation rut, or haven't even started your digital journey, there's no time like the present to do something about that. Use these change management tips to help usher in a whole new levels of business success in 2018.
December 14, 2017
Subscribe to Supply Chain Management Review Magazine!
Subscribe today. Don't Miss Out!
Get in-depth coverage from industry experts with proven techniques for cutting supply chain costs and case studies in supply chain best practices.
Start Your Subscription Today!
Latest Whitepaper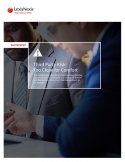 Third Party Risk: Too Close for Comfort
You've got a handle on many of the potential supply chain "disrupters" that can paralyze your business. But the real risk is embedded in areas you may have overlooked.
Download Today!
From the December 2017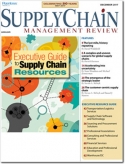 Transportation Trends: The last mile, history repeating
Economic Outlook: A Complex and Uneven Scenario for Global Supply Chains
View More From this Issue